April showers bring … the return of "Arrested Development!"
Yes, after years and years of clamoring for a reunion/movie/something, the fabulous Bluth family returns with 15 brand new episodes all slated to be released this month, making the No. 2 choice for May's Netflix Pix a foregone conclusion. Now, as for the other four …
We'll hopefully get to this more thoroughly next week, but for those who haven't noticed (and, after all, why would you or anybody else pay attention to this stuff, anyway?!), Netflix's instant streaming catalog took a sizable hit this week when it was announced that beginning in May, the service would be losing about 1,000 titles. Thus Netflix Pix has now become exponentially more difficult to compile. Sad.
However, worry you not, for the tireless minds behind the TV Without A TV blog have done all they could to find five promising suggestions for you to stream whenever that weather finally turns unbearably hot and a room with air conditioning becomes the only place comfortable enough to occupy. Plus … Memorial Day! What better way to celebrate memorials than to grill a bunch of hot dogs, drink some awful beer and then settle into whatever is left of the Netflix instant streaming catalog?
This month, we offer not one, but … ahh … let's say … one-and-a-half foreign films to ponder, a classic romantic comedy that brought the most beautiful woman in the history of cinema a Best Actress Oscar, and, of course, an unforgettable singular performance from one of Woody Allen's best films. Behold May 2013's installment of Netflix Pix, and behold the unofficial beginning of the summer.
Onward and upward …
1. "2 Days In New York" — This would be the 1/2 portion of the one-and-a-half foreign films phrasing that sits above this sentence. Written and directed by French-American Julie Delpy, "2 Days In New York" is the sequel to her "2 Days In Paris," a movie I admittedly have yet to see. No matter. The Delpy/Chris Rock boyfriend/girlfriend team is unexpectedly delightful and at-times laugh-out-loud funny. It's filthy, of course, and there are far more subtitles than one may anticipate, but unless you absolutely, positively hate every single thing about having to read text on a screen, the French dialogue certainly shouldn't be enough to turn you away (if anything, it's used as a prop for laughs). The best part? It only runs about an hour-and-a-half of your time. A quick in. A quick out. I mean, come on: If nothing else, it's refreshing to see Rock put on his indie hat and opt for subtle humor rather than his loud, obnoxious, in-your-face schtick. If you're looking for laughs and it's a rainy day, what more could you want?
2. "Arrested Development" (Season 4) — Without question, the best comedic television series I've ever seen (and if "The Wire" didn't exist, maybe the best show I've ever seen, period), "Arrested Development" gets the reboot it deserves this month after being away from our conscious since 2006. On bated breath, we have been waiting and thank God we are now at last ready to receive. Naturally, expectation for AD's return has been somewhat stifled — chances it is released and the Internet's cool kids table whines about how much of a bad idea it was: 74 percent — but even so, I still can't help myself from counting the days until the 26th of this month. It will be a Saturday. It will be Memorial Day weekend. And it will be the single most anticipated thing The Big Red Envelope has ever seen. Twenty-four days and counting. It can't come soon enough.
3. "Roman Holiday" — Audrey Hepburn as a royal princess. Gregory Peck as a journalist. Who knew 1953 Rome could be so … intoxicating?! Legend has it that both stars were flirting with the idea of a sequel in the 1970s, but the idea never left the ground. To that, I say the following: Good. The last thing a great movie needs is a sequel to tarnish its once-spotless name forever. And then, you have the ending. Oh, goodness, the ending! Brilliant. If you take one movie to watch this month, it should be this …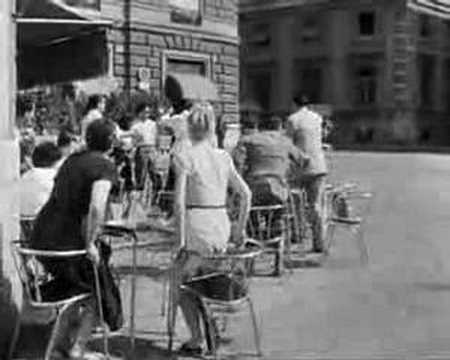 4. "The Girl Who Played With Fire (Foreign)" — Without question — one more time for emphasis: Without question — the superior film in the first two installments of movies adapted from Stieg Larsson's book series that completely swept the world away a few years ago, "Fire" is impossible to turn away from. Granted, I didn't see the Americanized "Dragon Tattoo" that hit theaters a little more than a year ago, but if you ever had a question about whose Lisbeth Salander is better … well, shut up. I simply can't imagine anybody out-performing Noomi Rapace in this role. Michael Nyqvist revises his Mikael Blomkvist in a much more subtle manner than its prequel and the move pays millions in dividends. You can shout from the rooftops about how great The Millennium Trilogy is, and you can even go on and on about how inescapable "The Girl With The Dragon Tattoo" once was, but the one thing you can't do is discount how infectious this second part to the three-part series was in its original film form. Yeah, it still gets uncomfortable, and yeah, it's completely unbelievable, but wow: What a movie. If you want to sit with something foreign, this should be it.
5. "Broadway Danny Rose" — As we so often do with each month's Netflix Pix, let's slip in a quick Woody Allen flick before it's all said and done. How in the name of Milton Berle he pulled this performance out of Mia Farrow is a phenomenon that continues to blow my mind. As is the case with many of Allen's better films, "Broadway Danny Rose" is smart, funny, whimsical and poignant all at the same time. Nick Apollo Forte swept in and pinch-hit for Sylvester Stallone and the end result proved perfect. Should you be in the mood for a fun Woody Allen black-and-white tale ("Manhattan" was far too serious to be in this category), it's hard to imagine coming across a better option. Have a look …