January, January. A new month and a new year both mean a brand new set of Netflix Pix as this blog eventually dives head-first into its third year of existence! The excitement, as you can feel, is crippling.
Before we get there, though, we have to take a moment to reflect on the year that was in music, both locally and worldwide. We have to take note of the Artists of the Year when it comes to the last 12 months. We have to check out the best movies of 2013 (especially since one of them appears in the list of pix you can read below). And, most importantly, we have to take a second to mourn the loss of all this stuff Netflix said goodbye to with the start of the new year.
Sad. Very sad.
Still, there are plenty of good options that continue to be available in Big Red's instant library, and this month, the opportunities know no bounds. From one of my five favorite films of the last 12 months to a must-see, can't-miss, holy-cow-watch-this-now riches-to-rags documentary, to a film somewhat laughingly featured in the "comedy" portion of the New Releases section of Netflix's website, we are kicking the year off correctly, gosh-darnit. Gosh-darn correctly, I said.
So, consider the following five ideas for what to turn to when the weather gets to temperatures below -39 degrees and the dog days of winter kick-start themselves into full effect. There's some pretty great stuff here, friends. Some pretty. Great. Stuff.
Onward and Upward …
1. "American Psycho" — Bret Easton Ellis's fantastically sadistic novel gets the movie treatment and somehow it works. Christian Bale's Patrick Bateman is pitch-perfect as an investment-banker-turned-mass-murderer, all Huey Lewis songs be darned. The cast is top-notch — in addition to Bale, this thing runs the gamut between Willem Dafoe to Jared Leto to Josh Lucas to Chloë Sevigny to Reese Witherspoon and all the way to Reg E. Cathey, doing his best to represent both "The Wire" and "House Of Cards" — and the performances echo the Grade A talent. Haven't read the book? No worries: Director Mary Harron paints a picture equally as dark as Ellis could ever hope to portray with the written word. Nearly 15 years old now, the film was heralded as the next "Fight Club" once upon a time, and while Brad Pitt's uber-vilent, made-for-men cult classic tends to receive more praise than it probably deserves, "American Psycho" has bubbled into must-see status with increased age as a result of both Bale's superstar profile and the rise in fascination with the people who ultimately drove this country's economy down the tubes a few years ago. That cold weather turning your taste for entertainment into solid ice? Use this movie as a way to keep your blood warm and your senses alert. "American Psycho" is, after all, the most chilling way to remind ourselves of how fiery our thoughts can feel. Ignite those flames, people. Feel the warmth.
2. "Frances Ha" — If you give me five movies from 2013, this one is part of that bundle and no, the transaction is not refundable. Greta Gerwig and Noah Baumbach team up to become what Lena Dunham wants so badly to be: Poignant, cynical and funny. Shot in black-and-white, with a quirky, tiny-length to match its unique style, some people have labeled this a new generation's "Manhattan" and why not? I'd say more, but I don't want to spoil anything. Just watch the trailer and head on over to Big Red …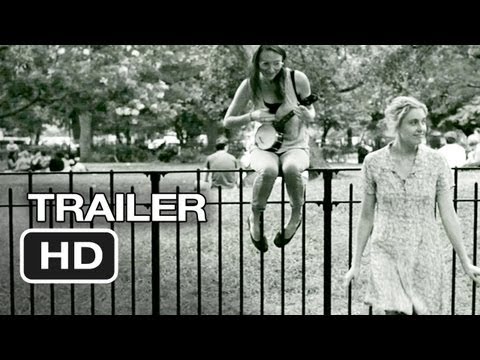 3. "2 Days In Paris" — … And if Greta Gerwig is a rich man's Lena Dunham, then Julie Delpy is each woman's more neurotic — and some would say interesting — foreign aunt. Coupled with "2 Days In New York," (a film profiled in this here feature a little while ago) this tiny 2007 flick about Delpy's Marion (last name unknown) is a must-see for anyone who's ever been snake-bitten by a hard-luck kind of love. The better of half of the "2 Days" series, Adam Goldberg's Jack (again, last name unknown) actually somehow overshadows Chris Rock's Mingus in this film's sequel. One look, and you'll see why: The model-ready looks of Goldberg is a stark contrast of the often-obnoxious ugliness he loves to ferment throughout each of the 101 minutes here. Not until the end does the character appear even remotely sympathetic (though no spoilers here!). Both of the leads' performances are subtle and memorable, narcissistic and selfish, flawed yet enlightened. Much like "New York," Delpy enlists her real life family for some real life laughs and it works even better than it did the second time. If you've seen one, you have to see the other. If you're only familiar with her "Before" movies (one of which proved to be among this past year's best in all of cinema), now is the time to see what the writer/director/actor can do outside of that world. Here's a hint: Some pretty great stuff.
4. "Not Fade Away" — New to Netflix's instant library this month is Sopranos creator David Chase's ode to rock and roll. I wanted to hate it with a capital H, A, T and E (I'm one of 29 people in all of mankind to never see a minute of "The Sopranos") … but I couldn't. I just couldn't. Sure, it didn't get the glowingest of glowing reviews, but there's something about its charm that sucks you in almost immediately. Save for a ridiculous final five minutes, what you have here is one of the more authentic and memorable music movies of the last few years. Highlighting a cast of almost universally unknown actors is John Magaro as Douglas, a naive kid from 1960s New Jersey who prefers the Stones to the Beatles and wants to start a band, be a rock star and explore the depths of impact music can have on the teenage mind (or, in other words, he's a young David Chase). Better yet is his de facto love interest, the mesmerizing Bella Heathcote who plays Grace, a cute girl Douglas wanted to impress with his musical abilities, despite an untoward past that may or may not involve someone in his band (again: no spoilers!). If nothing else, the film serves as a snapshot of yesteryear popular culture and, it should go without saying, the revolutionary musical movement that was formulating all around any kid with a long haircut and a box amp. The soundtrack is killer. The performances are better than good. And it's a story any Baby Boomer should cherish. It might not be perfect, but since when was flawless rock music ever interesting to listen to anyway? Buckle up. Get groovy.
5. "The Queen of Versailles" — OK. So, here's what you have to do: Read this tiny blurb. Watch the trailer below these words. Shoot an email to your boss. Say you don't feel well and need to go home early to beat the cold weather. Get home. Fire up your Instant Netflix Device Of Choice. And watch this thing. Words can't do it justice, so just watch. You won't be able to turn away …