In like a lion out like a … well, out like a something. March is here and it's not any warmer and snow is still on the ground and it doesn't feel like spring is right around the corner and St. Patrick's Day is less than two weeks away and Daylight Savings Time begins Sunday and blah, blah, blah, blah.
Indeed, it's about time this doozy of a winter is supposed to be winding down. Whether or not it actually will … well, heels crossed, as Claire Underwood would say. Either way, the dawn of a new month means the dawn of a new set of suggestions for you — yes, you! — to consider when perusing Netflix's instant-streaming catalog.
This March, we have somewhat of a controversial documentary about sea creatures. We have one of the great fun movies of the 1980s (and not to mention a few iconic scenes to boot). We have an Oscar-winning performance, the last run of what some (not me!) consider the best television show to ever exist, and, most importantly, my most highly anticipated film of 2013.
Because what else is there to do as those higher temperatures take their sweet, old time arriving here in the fine state of Maryland? Make snowmen? Get an early start on Christmas shopping? Ignore all the Easter candy that grocery stores are already displaying? Organize all the birthday gifts I know you got me in anticipation of me turning 30 next month? Cry yourself to sleep in the wake of the reality that "Orange Is The New Black" won't be back for approximately 359 more months? No. No. Yes. Yes. And yes.
So many options; so little bandwidth. In the meantime, consider the following five things you might want to check out as this month extends itself toward its 31-day peak.
Onward and upward …
1. "Blue Is The Warmest Color" — Or, as our French readers may know it as, "La Vie d'Adèle – Chapitres 1 & 2." Or, as anybody who knows me personally might know it as, "The Most Highly Coveted Movie Of 2013." Or, as I now know it as … "The Film That Forced Me To Never Have Expectations Again." That isn't to suggest it wasn't a really, really good movie; that's just to say that when you pay 100 bucks for a steak, the last thing you want it to look like is something from one of Applebees' microwaves. I began reading about it in January of last year and finally drove down to the Charles in Baltimore to check it out during its first week of release in this area, sometime in the fall. Having become enamored with foreign film over the last couple years, there wasn't a single flick I was more excited to see. And while it all added up to a good ride, I was hoping the word "great" would be involved. The performances are out of this world. Léa Seydoux and Adèle Exarchopoulos turn in phenomenal performances, and despite an overly indulgent runtime and a whole bunch of gratuitous sex scenes (yes, this is That Lesbian French Movie), you can't deny how draining it must have been to embody these roles. The great Michael Hunley saw it before I, and he summed it up best with the use of only one word: Raw. Emotionally raw. Sexually raw. Romantically raw. It's just one big, warts-and-all depiction of what it's like to grow up. Somewhat fascinatingly candid, yet oftentimes overwrought, "Blue Is The Warmest Color" is an utterly exhausting trip, not unlike seeing Kanye West perform his latest masterpiece at a half-sold-out First Mariner Arena in Baltimore not too long ago. But I digress. Any disappointment I had lies solely on me, who championed this thing up so intensely for so long, that no matter what I saw, it wasn't going to live up to whatever expectation I could have had. The resolution? Wait a year and revisit it with an open mind fully devoid of all anticipation. And with any luck, Netflix won't move this flick off its instant library by then. Though just in case they do, and you haven't seen it yet … well, at least now you know what you can do. Just be warned: There's a lot of spaghetti.
2. "Blackfish" — Hey, here's what I learned: Send a single tweet out about this documentary chronicling how awful Sea World mistreats its whales, and you'll be bombarded with "promotional" tweets paid for by the amusement park, telling you that "Blackfish" is nothing more than misinformed propaganda. Idiots. You'll see this, and you'll never look at that place the same again. Here's the trailer. You can't not see this …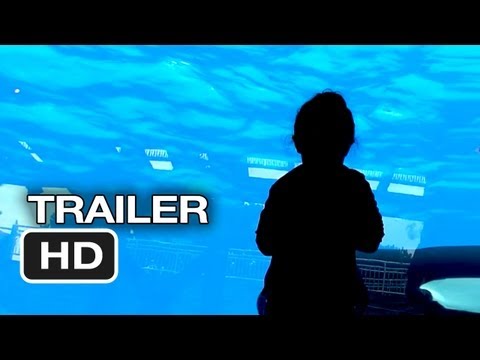 3. "Breaking Bad (Season 5)" — New to Big Red this month is the final set of episodes of what some consider The Greatest TV Show Ever, AMC's "Breaking Bad." Longtime readers of this blog (hey there, nobody!) will remember that I am not nearly as impressed by this show as you are. It's good, yes, but is it better than "The Wire?" H-word, no. Shoot, it's not even on the same level as "House Of Cards," after seeing how this second season has gone down, and nor is it even as well-done as its network-mate, "Mad Men," a show many people have already stepped away from for good at this point. Still, Aaron Paul's Jesse Pinkman is one of the best supporting roles ever to be broadcast on television (cable, Internet, or whatever type of whatever you want to watch stuff on), and Bryan Cranston's manipulative, really-bad-dude Walter White is the role a lifetime. Or, well, Cranston's lifetime, at least. The one thing the show did better than its contemporaries is suspense, anyway, and these final episodes are crammed to the brim with as much, all but making the inevitabilities of the stories a clear reality early in its swan-song season. If you were conned into picking it up in the first place (much as I was) you just have to see how it all wraps up, even if you couldn't care less about what happens with good, old Hank. For my money, this last set of episodes is the best the show ever got, and that's not something said lightly. If nothing else, you'll get to see the recently-profiled-in-72-Hours-comedian Bill Burr stumble around as one of Saul Goodman's cronies. And that's got to count for something, right?
4. "Broadcast News" — How do you not love "Broadcast News?" I mean, really. Written by James Brooks. Starring William Hurt, Albert Brooks and Holly Hunter. The inner workings of television infotainment. Messy, broken-hearted romance (which, by the way, is the only kind). It's been launched into cult status in the 25-plus years since it first hit theaters in 1987, and it makes sense. The thing is just quirky enough to seem fresh, yet it has just the right amount of brains to appear worthwhile. Better yet is its depiction of what goes on behind the scenes at a TV news program, which is always a fun setting for anyone even remotely interested in broadcast journalism. Hunter is a revelation, her perceived fire providing a spark strong enough to carry each turn, each development. Roger Ebert gave the thing a perfect rating, smartly noting, "The movie … is described as being about a romantic triangle, but that's only partly true. It is about three people who toy with the idea of love, but are obsessed by the idea of making television. Deadline pressure attracts people like that." I couldn't have possibly said it any better, so I won't even try. Instead, I'll just reiterate the reality that "Broadcast News" is available to stream now. And if you get a couple hours during what is turning out to be a cold, snowy March (boooo!), it's hard to imagine a more pleasant way to utilize that instant streaming membership.
5. "The Iron Lady" — All right. First thing's first: This isn't nearly as bad as everyone wants you to believe it is. Uneven and a little corny at times, yes, but there's no denying how electrifying the great Meryl Streep is as the late Margaret Thatcher. Actually, in a word, she's mesmerizing, leading a country through one of its most contentious historical eras and never once bowing to sexism or ignorance along the way. And while "Blue Is The Warmest Color" suffered from overzealous expectation, "The Iron Lady" is the polar opposite as it benefited from little-to-no-hope. Besides, remember: THIS IS MERYL. If nothing else, you get to see the greatest of her generation in an Oscar-winning role. Have a look …