Screencaps from episodes of the 1960's Spiderman show (sometimes called Vintage Spiderman) became a typical caption meme. The meme isn't new at the time of this post, but several of these images (captioned or without caption) are still widely used as reaction images so it is important to know and understand this meme so that you will be fully Meme Literate.
According to KnowYourMeme the captions are known for "typically featuring an absurd internal monologue that correspond with the actions depicted in the images".  The show ran from 1967 to 1970 and one of the co-creators of the show was Stan Lee, who is better known for his later work- Iron Man in 2008, Spider-Man in 2002 and Iron Man 3 in 2013. When Marvel began to stream episodes of the old show on its site in 2009, at which time Reddit and 4Chan users began to discuss it, leading to the spread to Tumblr in 2010. All that discussion led to a growth in popularity and in 2011 it became fashionable on Tumblr to caption the images .
In 2012 the most popular captioned screenshot became widely known throughout the entire Internet. This screencap features Spiderman sitting behind a desk seeming bored or at least in active, and behind him there is a picture of himself.
This image tends to be captioned "Everyone else is ___ / And I'm just sitting here ___".
The most common of these captions refer to "Everyone else is 'out having a good time doing' / And I'm just sitting here 'doing something boring'" or "Everyone else is 'playing videogame X' / And I'm just sitting here 'waiting for videogame Y to come out'".
In 2012 saw a lot of this particular caption which refers to two games, GTA5 (Grand Theft Auto 5) and also the date October 12th which was the day that Pokemon X & Y came out in 2013.
Due to the spike in popularity for the original Spiderman-at-Desk meme several other versions came into use as popular reaction images.
One of the other best-known Spiderman meme is the "I'm gonna back away slowly and come back when S*** is less weird" reaction image.

These and other captioned 60's Spiderman images became popular across the Internet and remain in use today.
Here are two Youtube videos that have collections of Spiderman memes read aloud. These videos are not for appropriate for kids and do have some vulgar language. The list of images posted after the videos will be only the more innocently funny examples of the meme.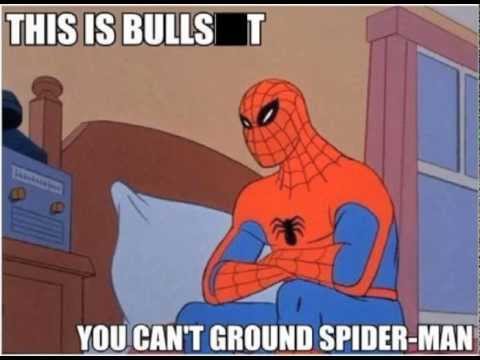 Here is my list of favorites from this meme, noting that the most widely known are marked with (*).