Boy, oh boy. This is easily my favorite Netflix Pix list of the year so far and it's not close. And what better time than now, right as the dog days of summer kick into full gear? Instead of tolling around in the hot summer sun, you can blast the AC, pull up Big Red's instant streaming library, and sit with any of the following five picks (or, well, four of them, at least) to ensure some super-duper greater-than-great movie-watching fun.
Not only do we have my favorite movie from 2012, but we also have not one, but two – two! – films from one of my five favorite directors in the history of the universe, Sofia Coppola. Those three movies alone make August's list one you ought not ignore.
Outside of those three, however, there's also an Academy Award-nominated documentary on where/how we get our food and it's not to be missed (even if you have a bit of a weak stomach). And to wind things down, we have a movie that … that … well, we needed a fifth suggestion to complete the list, and because I just took a chance on it, I figured it warranted at least one paragraph of "You've Been Warned!"
So, behold five suggestions to sit with that you can find on Netflix's instant streaming library. Because yes, the humidity will be back. And yes, you'll need to be entertained.
Onward and upward …
1. "Somewhere" – We are going to bookend this month's picks with two films from The Great Sofia Coppola. Why? Because I love her. Darn it. "Somewhere" is pretty divisive, though, among Those Who Have Opinions On Sofia Coppola. Some people called it nothing more than "the whining of the privileged." Others called it a "seductively pensive meditation on the nature of celebrity, anchored by charming performances." I call it "Flippin' Great." Stephen Dorff, he of … well, I'm not quite sure what else he's been in … fame stars alongside Elle Fanning, she of … well she's Dakota Fanning's sister? No, just kidding. She's pretty accomplished herself. Duh. Anyway, my position on this film is as such: If you like Sofia Coppola movies, you will like this movie. It's pretty simple, actually. Dig "Lost In Translation?" You'll find things to value here. It might not be your most favorite film of all time, but you'll enjoy seeing it. The plot isn't groundbreaking – celebrity suddenly finds himself having to take care of his daughter as his wife bails on the family – but plot points are not the reason we watch Sofia Coppola movies, no? I mean, we watch to see the way she portrays these things; not the things she portrays. It won the Golden Lion (Best Picture) at Venice in 2010, and it was The Film that solidified my personal undying loyalty and respect for the director (if only "The Bling Ring" were available to stream), so as far as I'm concerned, you ought to carve out 90 minutes, grab a lemonade, and pay careful attention as "Somewhere" sucks you in and never lets go.
2. "Food, Inc." – I'm not going to lie. This can be a tough watch. It's not every day that you see a chicken get its throat slit while some dude is talking about the problems with big business agriculture. At one point, there's a guy poking around inside the stomach of a cow while addressing the camera. I could go on and on and on. But, hey. As long as you don't try to eat something while you're watching it, you should be good. If nothing else, you'll instantly second-guess ever eating, well, pretty much anything. Ever. Again. Have a look:
3. "The Master" – You tell me that there were two better actors than Joaquin Phoenix and Philip Seymour Hoffman for this movie and I'll tell you that you're a liar. Much like "Somewhere," this flick was fairly polarizing between Those Who Care About Movies, but as far as I'm concerned, nothing was better in 2012 (and as a side, it will probably end up being the only movie I ever see with blogger extraordinaire Michael Hunley in an actual movie theater!). The processing scenes are some of the most transfixing pieces of film ever put on a screen, and while it might be hard to find resolution or purpose within these 138 minutes, don't think it's not there. This is the kind of movie you'll have to see more than twice in order to grasp its full effect, and if you aren't up for it, don't even try. You'll hate it. But for those who are in the mood for a little bit of abstraction and a whole bunch of world-class, pitch-perfect acting, send the kids to bed early and watch as Phoenix and Hoffman (along with the help of a stellar Amy Adams) guide you through a tale of manipulation, self-control, love, loss, and one weird, cult-leader-type figure. Don't dare reduce this to That One Scientology Move. You'd be robbing not only the film of its brilliance, but also yourself – of both a fascinating time in front of a screen and a whole boat-load of introspection and perspective that almost nothing else in modern cinema has ever had the guts to confront.
4."The Paperboy" – And we go from the great to the … well, to "The Paperboy." I can't give you a good reason why this was recently in my Netflix que, but it was there. And I had to watch it. Pete Dexter's weird, eerie, dark 1995 novel got the movie treatment and it's all over the place. Macy Gray is your narrator. It's the first time Matthew McConaughey goes all "Dallas Buyer's Club" on everything. Zac Efron is dying to detach himself from Disney. And Nicole Kidman, who got a Golden Globe nomination for … well, yikes. I'll say nothing more. Watch the trailer: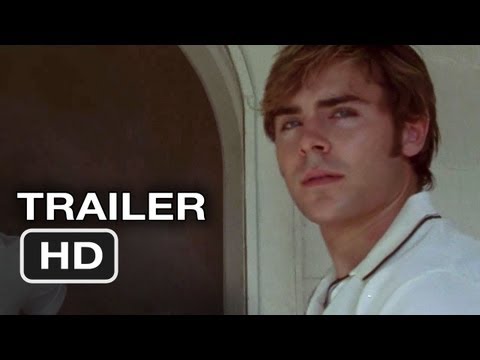 5. "The Virgin Suicides" – It was the first time out of the box for Ms. Coppola and what a way to get on base. Her adaptation of the 1993 Jeffrey Eugenides novel is both chilling and addicting. Throughout each minute, you feel doom is right around the corner, but what keeps you watching is precisely how that doom is distributed. Sure, it's the director's debut, but even all the way back in '99, you could tell this was a filmmaker who had a very unique and very imperative vision to share. Better yet is the uncanny performance from a very young and very good Kirsten Dunst, who wears creepy here just as well as she wore it in Lars von Trier's end-of-the-world 2011 drama, "Melancholia." Those dead, seductive eyes combine with her natural don't-talk-to-me disposition to form the perfect kind of teenage girl who is ultimately concerned with only two things: Sex and death. Watch it for the performances. Watch it for the direction. Watch it because you won't be able to shake it for days after you see it. You've got 31 days. There's no excuse.