I'm off to locate John Trout's final resting place in Park Mills, Maryland, just west of Urbana. I find the cemetery referenced on findagrave.com relatively easily. It's behind the Flint Hills United Methodist Church, so if you blink, you might miss it.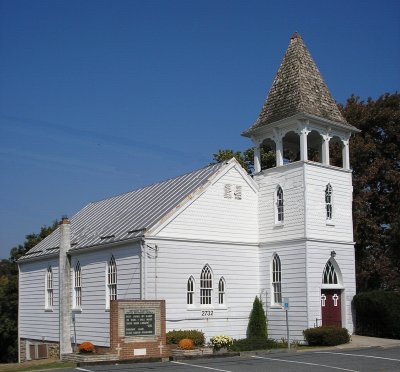 In my previous cemetery hunts – or is that haunts? ha! - I've found that they differ widely in organization and layout. Some come with a map and index posted on a keeper's shed. Other cemeteries are overgrown with shrubbery making stones difficult to find and identify.
Good historical societies have indexes. Evidently there was someone many years ago who roamed around Frederick County cemeteries - at least I'm not the only one – and recorded all the names and dates possible. Frederick County Historical Society has the volumes called Names in Stone - an invaluable tool for finding gravesites in the county.
Good thing this cemetery is not that big – I wasn't sure what kind of stone to look for. Fortunately, it doesn't take me long to stumble on John Trout's stone.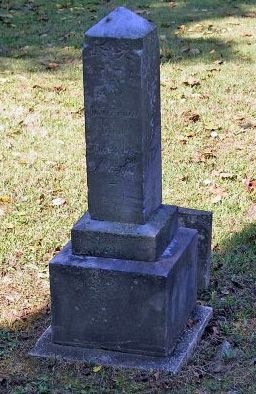 It's weather beaten and worn down so the markings are hard to read. I take a closer picture of the inscriptions. His wife's name, "Hariat A", is inscribed on the opposite side of the same stone. The inscription reads that she died on May 3, 1912.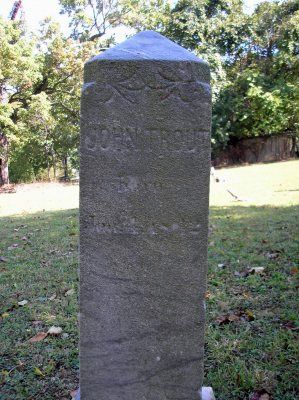 I'm surprised I don't see a Civil War headstone because they are freebies from the government. Since Harriett died before him (a sad precursor to his wife advertisement!), perhaps it was his plan to have the same stone marked with his name as well. Maybe it's just my imagination, but whatever the timing or reason, it strikes me as a loving gesture.
Somehow it's anticlimactic to find his final resting place. It's kind of like cheating by reading the end of the book first. I've been a fan of knowing the end of the story since third grade and Nancy Drew mysteries. I liked to know the end, so I knew which clues to look for as I read. Ok, so I'm a cheat!
I look around the quiet meadow faded with yellows, oranges and reds. Because I like souvenirs, my husband knows he needs to build gift shop time into the agenda everywhere we go. The urge is probably strange enough in this place, but failing any "John Trout Was Here" knickknacks, I pick up a black oak nut so prevalent on the ground. I wonder about what his life was like in the 1860s.
Park Mills is an exceptionally striking locale. It's just south and west of Urbana, and includes sleepy, rolling hills and farmland. Sugarloaf Mountain to the south is imposing from Park Mills Road. For Maryland's earliest explorers it was a mysterious, inviting beacon, and I can see why. It is a solitary thrust out of the surrounding landscape suggesting that some ancient wisdom resides in its shadows. Officially, this geographic phenomenon is called a monadnock, when a single mountain remains after the land around it has eroded away.
The name "Sugarloaf" is presumed to come from French explorers. During Colonial times, much of this Monocacy Valley was replete with Sugar Maple trees and was referred to as the "Sugar Lands." Until the 1800s, maple syrup was the primary sweetener in the United States. Maple sap was turned into syrup used to make sugar bread. The French explorers thought the outcropping on Sugarloaf Mountain looked like these popular breads.
Sadly, by the time of John Trout's enlistment in the Civil War in 1864 many of these native trees had been over-harvested for lumber, so their predominance in this area faded along with their syrup producing bounty. Today oak and hickory cover 60% of Maryland's forested areas.
As I gaze over the horizon I note that some newer neighborhood developments dot the area, but the easy beauty of the place helps me imagine the attraction early settlers must have felt.
Since cemeteries are a melancholy place by nature, I don't stay long. It's a perfectly crisp, fall day and I have another stop on my itinerary.
After all, I don't care as much about the beginning or ending dates on someone's marker as much as the dash in between. How did John Trout live his life? I'm off to find clues at the Monocacy Battlefield!