So I trekked north along Park Mills Road from the cemetery, north of Route 80 to 355. It's not a long jaunt. I looked forward to my Monocacy visit – I haven't been to the new museum. I pass over the Monocacy – the initial volatile demarcation between North and South during that pivotal battle. A drive I take many times in a week suddenly looks different today. Traces of the past seem to lurk behind every tree line.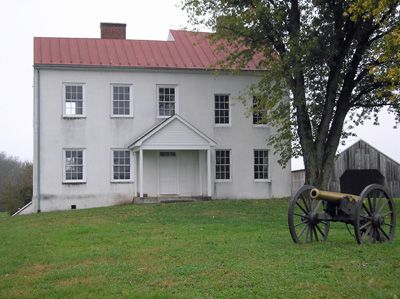 The Best Farm on Monocacy Battlefield
As soon as I enter the building I'm greeted by an efficient park service official. My eyes stray immediately to the gift shop behind him. My biggest weakness in a gift shop is the books. I'm about to decide to skip any museum display and go right for the Civil War books on display.
I sign in and am pleased to realize it is a free museum. The ranger looks inquisitive and I'm feeling unsure of where to go, so I feel compelled to blurt out my inquiry.
"Do you have any books on the '1st Maryland Cavalry?'"
"Oh, you are in for a treat! Why don't you go upstairs and look around – I'll collect some things while you're browsing upstairs."
I'm practically drooling. I'm thinking I'm going to get my hands on a book that has a golden list of Civil War recruits and John Trout's name is magically and easily going to be in it – clarifying any confusion I have about which John Trout I'm after. After all, this is just a short, quick curious investigation I'm doing into John Trout.
Right……..
And he wants me to pretend to be interested in the display upstairs? How long do I have to browse before I rush back downstairs??
I willed my legs to walk slowly…and much to my surprise took in the displays without rushing. On this day, it wasn't crowded. The combination of artifacts and information was impressively arranged in a clear, interesting way. My favorite part was the battle map – much like the electronic Gettysburg map that I've always loved. As I listened to a recording, lights on a map shone at various times showing different locations and movements of troops. It gave a clear picture of how the battle progressed that day. It was so compelling I watched it twice.
And he was right. I was in for a treat. I was able to see the Special Order 191 at the end of the museum tour.
By the end, I had a better understanding of the battle. I learned that 1,300 Union soldiers died, were wounded or captured in that battle. I'm investigating if John Trout was one of those captured. Shaking in anticipation on my way back down, I convinced myself he probably forgot about my inquiry.
Not to disappoint, the ranger had a STACK of books waiting for me at the counter.
I was overwhelmed. Omigosh. Could this be the key to understanding John Trout?
And then…."I assumed you meant Confederate?"
My eyes actually popped into the back of my head trying to remember what I knew. "ummm….no-o-o-o…" I trailed off quietly. "I think, I'm pretty sure, I mean, I think it was… Union."
Ugh! I hate being confused!
Trout was UNION, wasn't he?
Honestly, it had to be a Yankee mistake. The Civil War veterans from my family tree all served from Pennsylvania, which we all know is a very pro-Union state. I am new to researching in Maryland. Of course I know Maryland was a border state, but it never occurred to me that perhaps Mr. Trout had served with the Confederate forces, probably because I have too much Union DNA in my genes. And anyway, didn't the paper say he was a Union veteran?
The very confident ranger caved a little drawing a blank. "1st Maryland Cavalry for the Union? Hmmm...I don't think we have any books about that unit."
At this point I wasn't so sure at all that I had read the records correctly. I didn't even do a SEARCH of Trouts in the Confederate forces. Evidently "1st Maryland Cavalry" doesn't just mean "Union."
He continued, "There was a mix of Union cavalry units together; a small band of several forces. Probably the best resource is this book by our Park Ranger Brett Spaulding. He mentions some things about the Union cavalry in it."
After some fumbling, I picked up the title he referred to and decided to buy it. It looked like a good resource on the battle, and the ranger was helpful in any case, so his recommendation must be good. He gave me the author's email to inquire more directly. I found out the Monocacy Museum has an appointment-only research room – good to know. Trying to recover my bearings I grabbed a refrigerator magnet and a reproduction map to add to my bounty. I noticed on this map that 300 Union forces were captured just past Gambrill's Mill, apparently during the Union retreat towards New Market and Baltimore.
I was so deflated I didn't even catch the Ranger's name before he walked away to help another visitor. (Journalism 101: Get the names of people who assist you. Or at least keep it together enough without getting distracted by shiny gift shop baubles to thank them for their help.)
I walked out feeling lost. Had I been wrong about John Trout's military service all along?