More than ever I was a woman on a mission. Instead of satisfying my curiosity about John Trout, my "field trip" - the cemetery trip, the Monocacy Battlefield, the Maryland Room – fueled it even more.
I really did intend to get back to a normal routine the next day, but……
John Trout's service record bugged me. So I squirreled away to work on my laptop. I really wanted to know if he was the one who was captured at the Battle of Monocacy. The paper said he was pensioned - a bonus - because those records usually provide a lot of information. How come I haven't come across a record of it already? Basically all I'd found so far was his Enlistment Paper, not even an entire compiled military service record.
This is where the "Easy Button" from Staples would come in handy. If only….
I turned back to www.ancestry.com to specifically look at military records again. I decided I should try searching for Andrew J. Trout, due to the small pencil notation I had found earlier in www.fold3.com:
Image courtesy of fold3.com
Bingo!
There is a 15 page document in fold3.com that has records for Andrew J. Trout!
How do I know though if this is the same as John A. Trout? Can I confirm that he was captured at the Battle of Monocacy?
It clearly states the branch of service:

Image courtesy of fold3.com
That regiment can be researched! The description was close to the enlistment records: occupation, enlistment date, service. The height of 5'5" is close to the 5' 4¼" that I already knew about! But oh, my! It's listed that he deserted at Sharpsburg on July 5, 1864!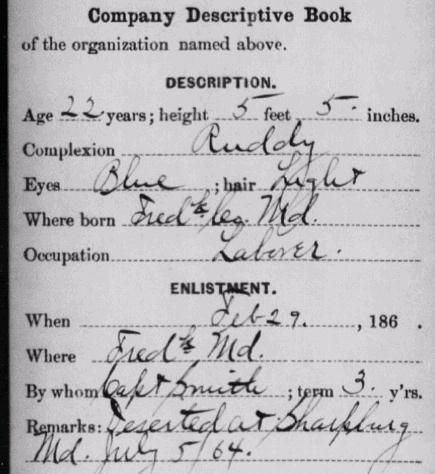 Image courtesy of fold3.com
I kept thumbing through the pages….hoping against hope for a clue that tied John A. Trout with Andrew J. Trout. I may be following a wild goose chase!
The next entry confirmed in October 1864 that the army thinks "A.J. Trout" is lost by desertion.
Image courtesy of fold3.com
I kept going practically holding my breath….
The next page was a gold mine!
Finally, a confirmation! One record out of 15 wrote his name as John A. Trout! U-n-b-e-l-i-e-v-a-b-l-e luck!
Image courtesy of fold3.com
Andrew J. Trout IS John A. Trout!
He has to be! But, hmmm. The eye colors don't match. Perhaps one person's blue is another person's gray? Most importantly his height matches to the enlistment papers, right down to 5' 4 ¼"!
Apparently John A. Trout used his middle name during his enlistment period. So I can officially now say John Andrew Trout served in Company H, 1 Regiment Potomac Home Brigade Maryland Cavalry. But wait! He deserted?