I know who I wanted John Trout to be, but I had to follow the evidence. Was he a deserter or was he captured? The digitized records from fold3.com had led me in both directions.
I knew he volunteered on February 29, 1864 in Frederick, Maryland for a term of 3 years with the 1st Regiment Potomac Home Brigade, Maryland Cavalry, also known as "Cole's Cavalry."
I saw in the compiled military service records that he was present during muster-in on April 30, 1864. He was also present during roll for May and June 1864. Beginning on July 15, 1864 he was marked absent without leave. One record shows they thought he was sick from July to September 1864. Then by October 1864 he was marked "loss by desertion." I definitely had the distinct impression the roll officers really didn't know what happened to him.
As I kept going I saw another record for the September/October 1864 roll that indicated he deserted at Sharpsburg, Maryland on July 4, 1864. Then "deserted" got crossed out and replaced with "captured." Notwithstanding John Trout's situation of being captured, I wiggled a "yea!" dance in my chair.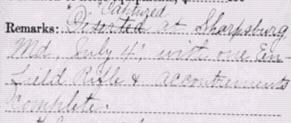 Image courtesy of fold3.com
Supplies being as valuable as they were - especially by 1864 - it was noted that he forcibly departed with his "Enfield rifle and accoutrements." In fact, the economy during the Civil War imparted its own version of a "fiscal cliff." As an example, in 1861, flour cost $6 per barrel and by 1864 when John Trout was captured it cost $125-$500 per barrel. By the end of the war in 1865, that price went up to $1000 per barrel.(1) So, I can see why the military would have a need to keep track of supplies.
The next record in his file noted his absence during March/April 1865.
The cavalry was none too happy about this equipment loss and apparently intended on settling dues once John Trout could be found.
He was accused of losing his equipment due to "negligence" and that he had been "erroneously dropped as a deserter."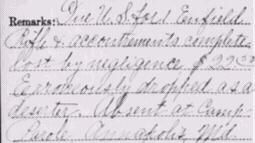 Image courtesy of fold3.com
The cavalry seems to have straightened out his absences. Finally!
A prisoner of war record noted what happened. He was indeed captured at the Battle of Monocacy on July 9, 1864; confined at Danville, Virginia through February 17, 1865; brought from Danville to Richmond, Virginia on February 20, 1865 and paroled at James River, Virginia February 22, 1865; reported at "College S.B., Maryland" on the same date, and admitted to a hospital, division number 2 on February 22, 1865. I saw a small notation in the corner "Libby" that gave me the shivers.
Image courtesy of fold3.com
He was furloughed for 30 days beginning on March 10, 1865 and officially mustered out on June 28, 1865. His service, capture and end of war ends in a simple statement:

Image courtesy of fold3.com
There is nothing simple about what John Trout must have experienced as a soldier and as a prisoner of war. From my one and only Civil War history class in high school I vaguely recalled hearing appalling statistics about soldiers, disease and the conditions of Confederate war prisons. Without even needing to recall those specific statistics (but now determined to look them up again), I felt comfortable concluding two things for sure:
John Trout is a survivor. John Trout is a hometown hero.
---
1. Varhola, Michael J. Everyday Life During the Civil War: A Guide for Writers, Students and Historians, Writer's Digest Books, Cincinnati, OH, 1999.