"The Lost Boys"
An article in the Fall 2012 edition of the Civil War Monitor caught my eye. The "Lost Boys", written by Kathryn Shively Meier, highlights some of the reasons men may have taken unauthorized leave from the ranks. Because John Trout was initially labeled a 'deserter' before he was identified as captured, the information she presented intrigued me.
Despite the risk of punishment, some men left camp "temporarily" often due to the combination of bad weather and inadequate shelter and supplies. Men who left camp or marches under temporary circumstances were called "stragglers" and caused problems for civilians on both sides of the war.
Preventative Self-Care
According to Meier, because advances in germ theory had not yet occurred, a prevailing thought at the time was that weather was the cause of a variety of illnesses. She indicates that soldiers often loathed to seek treatment from the medical establishment given the haphazard diagnoses they sometimes received.
Therefore, men often took their health into their own hands by searching for clean water sources, foraging for berries, vegetables and medicinal herbs. Straggling for these purposes often kept a soldier healthier and in overall better spirits, so it was tolerated up to a point by commanders.
Prisoners and stragglers being rounded up.
Library of Congress Prints and Photographs Division.
Temporary Absences
Stragglers intended to return to camp eventually, whereas (obviously) a deserter did not. However, temporary "absences" might have lasted a few days to a few weeks. By late 1862 and into 1863 commanders on both sides of the war became less tolerant of this practice. It was a dangerous gamble a soldier made and punishment might mean riding a wooden horse, wearing a wooden overcoat (a barrel), or enduring "bucking and gagging". Or worse. A soldier may have been practicing preventative self-care, but if caught, may have been executed to be used as an example.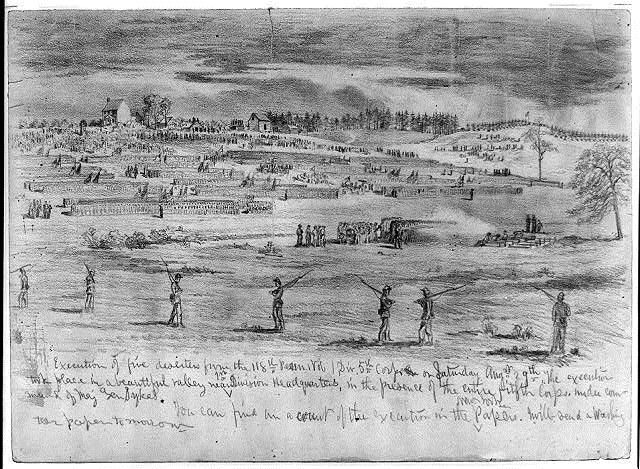 Five deserters from the 118th Pennsylvania Infantry being shot.
Library of Congress Prints and Photographs Division.
A Straggler?
I wondered, given the confusion over his absences – he was first labeled a deserter beginning on July 4, 1864 - was John Trout "straggling" before his capture on July 9?
Perhaps studying the movements of Cole's Cavalry during John Trout's enlistment could illuminate the circumstances that faced his regiment in July 1864.