I would be remiss if I didn't mention that one of the first things I typically do is find an ancestor in census records. Fortunately for me John Andrew Trout lived his entire life in Frederick County which made him easier to find.
It is perhaps a bit of foreshadowing that John Tyler was president when John Andrew Trout was born in 1842. Tyler only served until 1845, but the tension of states' rights versus federal government power continued to dominate politics throughout John Trout's childhood culminating in the Civil War. It's hard to know exactly, if this issue directly affected John Trout's family in his early childhood.
John Trout first shows up in the 1850 census. Although I mostly work with online records now through ancestry.com, I still transcribe records on paper. I use a system recommended by Sharon DeBartolo Carmack in her book Organizing Your Family History Search for organizing genealogy files.
John Trout's father, John Trout Senior, was 37 in 1850, living in the Buckeystown District. He is listed as a laborer and has a value of $150 of real estate. As I learned earlier, a laborer is typically defined as a man who owns no real estate. However, given this information, I will have to make a note to investigate possible tax or deed records. Determining the Trout's property ownership status might give me a sense of their involvement in the politics of the day. It wasn't until 1856 when white males (with and without property) were allowed to vote in presidential elections.
By the time John Andrew Trout was ten, America was bursting at the seams with possibilities, growth, immigrants and inventions. Irish had immigrated en masse to America due to the potato famine in the 1840s. By 1847, the Mormons had arrived in Utah; likewise the first families had traversed the Oregon Trail without guide books. By the end of the 1840s, gold was discovered in California. Manifest Destiny had taken its hold.
Continuing with my census research, I was flummoxed because I found John Trout in every census year through 1920 - except not in 1860. I saw on ancestry.com that other researchers had found a John Trout in 1860 living in New Market, Maryland, listed as a laborer. He was the right age, so it seemed possible. However, I knew there to be another Trout family in the Walkersville area so I wasn't satisfied, although I kept that piece of information as a possibility.
Usually when I get stuck on census records, I try searching the digital records with a different sibling name or trying a variation of the last name.
Sure enough. I was able to find "John Trought" in the Urbana District and the sibling names from the 1850 census all match with additional new siblings: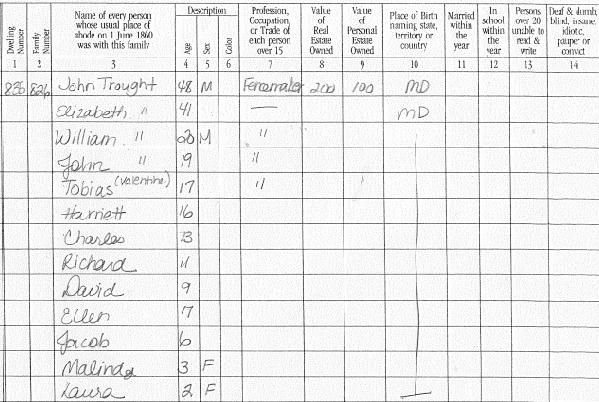 His father's occupation is listed as a "fence-maker", with again, a small amount of value of personal and real estate owned. Between 1850 and 1860 the Trouts added 5 more children to their clan.
I do note that there is a girl, Harriet, 16, living with the family. From the graves I had already visited and from later census records, I knew that to be the name of John Andrew Trout's first wife. I make a note to investigate their marriage date, because I am under the impression it was after the Civil War. It was curious to me that she appears to be living with the Trout family in 1860.
At the turn of the decade, before John Trout was 20, he was a fence-maker helping his father and brothers - and perhaps already in love with Harriet. To the West the first Pony Express rider delivered mail from St. Joseph, Missouri to Sacramento, California in just 10 days. And in the South, the states had just succeeded from the Union.
Closer to home, the commander who foiled John Brown's raid at Harper's Ferry, Robert E. Lee, joined the Southern cause. Tensions over slavery and talk of succession divided sentiments in Frederick County. Even if the Trout family had been able to ignore the divisive fervor gripping the county, the conflict was about to march onto their doorstep. In Maryland the lines demarcating the opposing groups were not always so clear cut. Sentiments varied from district to district and sometimes house to house. In the 1860 election, Lincoln only carried 103 out of 7,329 votes from Frederick County citizens.
If the proverb is true, "good fences make good neighbors," then the humble fence makers from Urbana were caught in the middle of a divided era. The Trouts would soon be forced to pick a side for they were living smack-dab in the center of a district sympathetic to the Confederacy.
Life had come full circle. The man who was President when John Trout was born, John Tyler, had retired to Virginia and was elected to the Confederate Congress. Although Tyler died before serving the rebel congress, the stage was set.
John Andrew Trout came of age just as the Civil War began.