I was able to find John Trout in census records from 1850-1920 consistently which is an amazing feat in itself. Apparently he didn't move around anywhere (that I have found so far) so I could expect to find him in the Urbana district his entire life. Fortunately, he mostly used his middle initial to distinguish him from other Trouts in the area (or even his own father.)
So, if you've used census records before you are familiar with the issue of inconsistent spellings, birth dates and locations. If you haven't, it's best to get a clue before you start using these records. I use Your Guide to the Federal Census for genealogists, researchers and family historians by Kathleen Hinckley as a resource. Suffice it to say that I was lucky that the only variation in spelling for John A. Trout was "Trought", and it only happened for one census year. In fact, I came across a great article by Diane L. Richard in the Oct/Nov 2012 issue of Internet Genealogy for researching possible name variations. You can type in the name you're searching at www.namethesaurus.com/Thesaurus/Search.aspx and the website will spit out multiple name variations for your ancestor that you can try if you are stuck.
Besides the federal census population schedules, there are also agricultural schedules, mortality schedules and special census records to investigate. I want to mention one in particular: the 1890 Veteran's Census. Since many of the 1890 census records were burned in a fire in the National Archives most records from that decade don't exist. Apparently about half of the veteran's schedules survived and can confirm an ancestor's location as well as Civil War service.
So I reviewed the 1890 Veteran's Schedule for the Urbana District (incorrectly written as "Herbana" by the census enumerator.) Among 12 veterans, I found John Trout's name.
On the bottom half of the page, I saw a list of residences and disabilities. I saw that John Trout (#12) lived in "Della, Frederick County, Maryland" which was unfamiliar to me.
I found Park Mills Road again on Mapquest.com and did indeed locate a "Della Road" off of Ed Sears Road just north of the Monocacy River, literally in the shadow of Sugarloaf Mountain.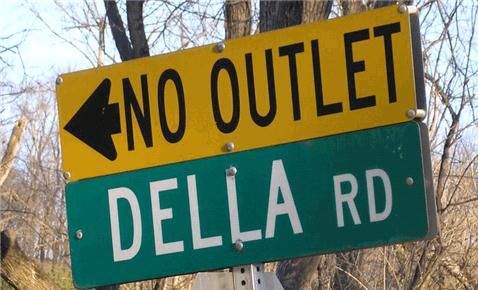 Of course I had to go visit Della. The Monocacy meanders directly at the base of Della Road. There is not much else to see, except a quiet, hilly cul-de-sac. The road sits in a forested valley behind some prominent farms, most notably Loch Moy Farm on Park Mills Road. Although Loch Moy Farm wasn't there in 1860, Park Mills Road was once peppered with various larger farms at which the Trout fence-makers probably found work. I did find out that at one time Della had its own post office and an African American school.
Looking closer at the list of veterans I noticed several names were crossed out. I referred to my census resource, and Kathleen Hinckley notes of the 1890 census on page 19 of her book:
"The 1890 Special Union Veterans and Widows supplemental schedules gave a veteran's rank, company, regiment or vessel, dates of enlistment and discharge, length of service, post office address and nature of any disability……Tip: For some Confederate soldiers mistakenly listed and then crossed out in the special schedule, the listings are still readable. Do not eliminate researching this record if a family was confederate."
John Trout's regiment matches what I know to be of his Union service. But, I see that his name has been crossed out and a "Con" written by his name. As I look closer, seven other veterans were likewise crossed out with either a "Conf" or "Con" next to their names.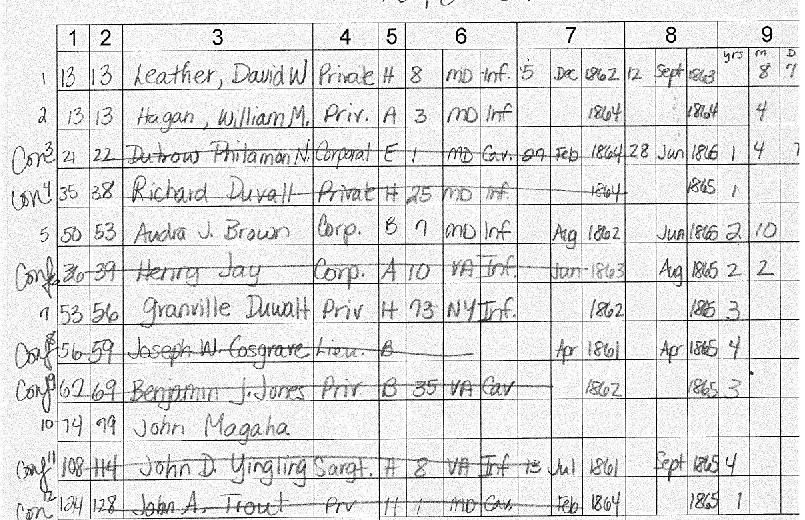 1890 Special Schedule Transcription by author, Urbana District, Frederick Co., MD
I think I just gave myself whiplash. Didn't I just finally figure out he was a Union veteran??
Really?? Could John A. Trout be BOTH a confederate AND a union veteran?
Obviously, I need more expertise to help me evaluate this apparent conflicting information. I'm headed back to the Maryland Room and Frederick County Archives research room for help.