I wanted to investigate the discrepancy in information from the 1890 veteran's census that showed John A. Trout as a Confederate, despite listing his Union regiment.
So I had the great fortune to visit the Frederick County Historical Society when professional genealogist, Bob Fout was volunteering. What luck! I had met him briefly on a previous trip and exchanged pleasantries enough to gather his business card. I knew him to be an expert on Frederick County research, so I immediately showed him my 1890 census record for John Trout.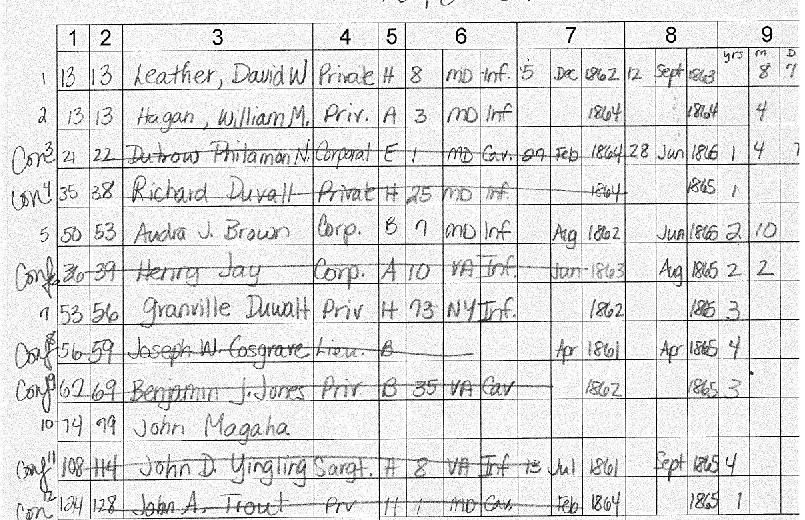 1890 Special Census of Civil War Veterans, Urbana District, Frederick Co., Maryland
Transcribed by author
He immediately pulled out a book by Larry Tildon Moore. Mr. Moore has transcribed the 1890 veteran's census for Maryland and volume II covers Frederick County. I reviewed his transcriptions of the Urbana district and noted that Mr. Moore also identified John Trout as a confederate.
Armed with Mr. Moore's contact information I was able to talk to him about his process later that weekend. In short: the evidence is inconclusive.
He shared that in order for the 1890 enumerator to have made those markings, he would have likely talked directly to the veterans. That meant John Trout would have identified himself as a confederate.
The enumerator, Charles T. Dudderar, also a resident of the Urbana district, would have been somewhat familiar with the families he was enumerating. On the other hand, in 1890, it appears Charles T. Dudderar was 22, and therefore born after the Civil War. He may not have realized that the First Maryland Cavalry could be a Union regiment – also known as the 1 Maryland Potomac Home Brigade - and may have erroneously crossed out not only John Trout's name, but also Philemon Dutrow's name as well.
For due diligence, I also headed over to the Maryland Room to speak withMary Mannix, the Maryland Room Manager. If any genealogical problem comes her way, she promptly puts out her genealogical "Doctor Is In" sign and efficiently gathers resources for you to peruse.
I showed her my 1890 census, and she mentioned it was common for Confederate sympathizers to "jump the river" from Frederick County to Virginia. Sometimes they served in the Confederate armies or sometimes they hid out to avoid service with the Union armies. We discussed the fact that John Trout didn't volunteer until February 1864 – what was he doing from 1861 until that time?
From the shelf she pulled The Roster of Confederate Soldiers 1861-1865, Volume XV, edited by Janet B. Hewett. On page 333 there are a host of Trouts who served in the Confederate armies in Virginia. Just a few caught my eye - versions of the name John Trout may have used in various forms: A.J. Trout, Andrew Trout, Andrew J. Trout or John Trout.
She then passed along the name and number of a local researcher who is working on compiling information about Confederate soldiers from Maryland. I was tickled to find him at home and receptive to my questions the same weekend. He thought there might be one or two possibilities of some Virginia soldiers that might be the John Trout I am researching.
Thanks again to fold3.com I didn't have to – gasp – take a trip into the bowels of "Confederate Virginia" to look for more specific records. (Might I add that after looking at 19th century records and reading about the Civil War for long stretches, when I come up for air sometimes I forget what century I'm in…)
However, after some internet searching I was able to eliminate the John Trouts I had identified as possibilities. I have not been able to turn up any definitive Confederate service for John Andrew Trout.
Because of this, my theory was that the enumerator made a mistake on the 1890 census. But….it just BUGGED me that records conflicted.
So… I took a closer look at "Philemon Dutrow." Not only had I noticed he served in the same regiment and nearly at the same time as John Trout, but his first name is less common, and I thought it would be easier to track. I was thinking that perhaps Charles T. Dudderar made a mistake on crossing out both records, and if so, I should be able to prove that.
What I found was interesting!