I wanted to know if the 1890 enumerator, Charles T. Dudderar, made a mistake by crossing out John Trout's name and labeling him a Confederate. I theorized that if he made a mistake, he would have also mistakenly crossed out Philemon Dutrow. As I mentioned earlier Philemon Dutrow enlisted at nearly the same time in Cole's Cavalry as John Trout. They were both from the Urbana district.
So I conducted internet searches for Philemon Dutrow's military records and census records of his family. I did indeed find his Union service records for Cole's Cavalry service. I couldn't find any confederate papers for him. Check and check.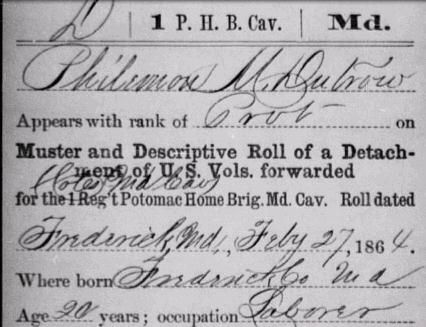 Image courtesy of fold3.com
What I noticed on the census search though interested me. I found Philemon M. Dutrow in Urbana, Frederick County, Maryland living with his parents in 1880 so I kept tracking backwards. In 1870, Philemon - an easy search name - DUDDERAR is still living with his parents (matches with 1880) and has a 19 year old brother named Charles C. Dudderar. In 1860, Philemon's family is again enumerated as "Dudderar" and again in 1850 as "Dudderar."
Additionally, Charles T. Dudderar first shows up in Urbana in the 1870 census. His father George was wealthy enough to have African American servants. Charles T. DUTROW is enumerated in 1880 with his family again in Urbana.
You say tomato; I say tomahto.
You say Dutrow; I say Dutero, or is that Dudderar?
Wow. That name change implicates something important.
It places into the realm of possibility in 1890 there may be a relationship between Urbana residents Philemon Dutrow, the veteran, and Charles T. Dudderar, the enumerator. If this is the case, then it seems reasonable to me that the enumerator would have more likely known the exact nature of military service performed. Therefore the cross-outs are less likely a mistake, and more likely a possible indication of Confederate service at some point. In summary, I cannot yet eliminate the possibility of John Trout having served at some point with a Confederate unit.
In order to investigate further I need to develop a "web of relationships."
Marsha Hoffman Rising suggests this tactic in her book The Family Tree Problem Solver. In chapter four, she mentions that to get around brick walls researchers need to pay attention to names and neighbors that come up in affadavits, tax records, deeds and pension records since often they are relatives. In fact, I have been able to trace many of my female ancestors using this technique because their husbands were mentioned in many of those types of documents.
For John Trout, I don't have all of those kinds of sources yet, but I am trying to fit together the pieces of how the neighbors in 1860 might have related to each other. This kind of research isn't sexy – genealogically speaking of course. It takes time after all. It's not like a "Who Do You Think You Are?" program that's able to complete a 7-generation chart for someone in the space of an hour. I enjoy this kind of research though – it's like a puzzle and it gives a more complete sense of what life what like as the pieces begin to fit together.
What I have to be careful about is that there are a few Dudderar/Dutrow family units in Frederick County during this time. In order to confirm there might be a family connection between Charles Dudderar and Philemon Dutrow in the Urbana district I have to do more research. Of course establishing this connection is not vital, but it would help determine if the enumerator Charles T. Dudderar knew what he was doing in the 1890 census.
While I do this research in the background (so as not to bore you because there are often more dead ends than not) I will continue with what I do know:
Cole's Cavalry was already a famous regiment received with much fanfare in Frederick County by 1864. War had come to the residents of Sugar Loaf Mountain.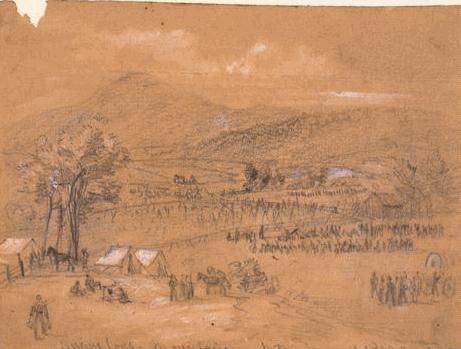 Sugar Loaf Mountain Encampment. Library of Congress Prints and Photographs Division