By mid-1861 several Frederick County communities had organized their own home guards: Middletown, Mt. Pleasant, Jefferson, and Frederick City to name a few. It very quickly became necessary to establish a home brigade that protected the Potomac River– the official line separating North from South.
It didn't take long to establish these home guards as part of a larger brigade. Henry Alexander Cole emerged early-on as a leader of one of the cavalry units established from Frederick. Cole's Cavalry was mustered into the 1 Potomac Home Brigade, Maryland Cavalry, led by Colonel William Maulsby around August of 1861. At the beginning of the war, Cole started out as a captain of Company A and was eventually promoted to Colonel of the brigade. As a result, the 1 Potomac Home Brigade Maryland Cavalry was generally referred to as "Cole's Cavalry."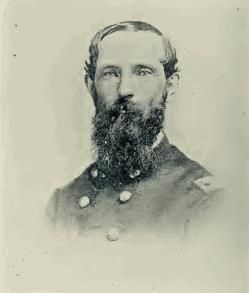 Colonel Henry A. Cole
Their guardianship along the Potomac River line and up and down the Shenandoah was necessary since the Confederate cavalry, under the leadership of John Ashby emerged as a viable nuisance. Cole's Cavalry was the local protective force keeping Frederick County safe, although they also worked in conjunction with other cavalry units.
Until I started researching John Trout, I didn't realize how vigilant Frederick County citizens had to be throughout the war. It seems to me that Frederick County often takes a back seat to the pivotal battles like Antietam or Gettysburg – and yet, life anywhere in Frederick County, and especially along the Potomac River, placed citizens in the thick of things under constant stress and danger that lasted the duration of the war.
John Trout lived in the middle of one of the most dangerous zones in Frederick County. The Monocacy River flows to the west of Sugar Loaf Mountain – John Trout's stomping grounds - and meets up with the Potomac. Just below where these two rivers meet was a popular crossing for Confederate raiders, known today as White's Ferry.
All persons were considered suspicious and rumors of confederate invasions or incursions often caused wide-spread hysteria and panic among Frederick County residents. Prior to any official battles, there were numerous raids, skirmishes and suspicious activities. As an example, on April 22, 1861, confederates invaded Brunswick (then known as Berlin) and hung the confederate flag. They were eventually driven out. In May 1861 the Frederick County Courthouse was burned – both sides blamed each other. Around the same time there was an encampment of Confederates near Point of Rocks. Attempts at burning the Monocacy Bridge at Monocacy Junction, cutting telegraph wires, vandalism, and train and mail seizures near Point of Rocks and Harpers Ferry were examples of rebel incursions that were constant threats.
Rebel sympathizers also tried to smuggle contraband goods across the river. Many times civilians were arrested for suspicious activity and sent to Fort McHenry, Point Lookout, or just shot. Frederick became a militarized zone.
How difficult it must have been for an average citizen - for John Trout - to make a living under these conditions!
Information for this blog was found in an historical book Cole's Cavalry: Three Years in the Saddle written in 1895 by C. Armour Newcomer, a soldier in the unit. This book can be accessed online through the Internet Archive. The Emmitsburg Area Historical Society also has a "Cole's Cavalry Collection" if you are interested in more resources pertaining this regiment. In this an future blogs, to fill in gaps about Frederick during the war, I also referred to Paul and Rita Gordon's book Never the Like Again and Frederick in the Civil War, by John W. Schildt.