I wanted to understand the environment in Frederick around the Civil War prior to John Trout's enlistment with Cole's Cavalry in 1864. Not being a native of Frederick County, I've been doing some background reading in order to better understand this time and place. I don't attempt to explain major battles or pretend I am an expert on Civil War history. However, I hope to place his family in context of the time.
In 1861 in Frederick County the Union military populated the landscape. Hundreds of soldiers from points north like New York, Pennsylvania, Indiana, Michigan, Massachusetts, Wisconsin, and our own Home Brigade encamped in and around all directions of the city. Merchants kept up with the new influx of soldiers and their needs by opening up new bakeries and supply stores for clothing and other military supplies. Trains continuously ferried goods from Baltimore to Frederick, Hagerstown, Harper's Ferry, and other points.
Twice daily military parades and drills broke the boredom of camp life and enlisted the excitement and support of local citizens. The newspaper of the time referred to Frederick military parades as "a brilliant military galaxy." Within this galaxy also came an influx of raucous behavior. The world's oldest profession, prostitution, took up residence in the city. It was also illegal to sell soldiers alcohol, but that didn't stop the practice. A large number of soldiers were lost to illness, gunfire accidents and intoxication throughout encampment at Frederick.
From 1861 and into 1862, Confederate Major Turner Ashby and Frederick County native, Bradley Johnson led rebel cavalry troops on guerilla raids into Frederick County. Communities along the Potomac were especially vulnerable.
Previous to Antietam. Rebels crossing the Potomac. Union scouts in foreground. Library of Congress Prints and Photographs Division
In September 1862 the invasion of Maryland leading up to Antietam caused panic and evacuation from many county citizens. Part of Lee's army crossed the Potomac at White's Ford. They encamped along Buckeystown Pike with the Monocacy as a southern boundary. Lice-infested confederates bathed in the Monocacy River and ate corn off the stalk in farmers' fields. There is no doubt that this event impacted John Trout's life. Based on census records, his home was located in and around Park Mills Road which is about five miles southeast of Buckeystown and within one and a half miles of the Monocacy River.
The rebel army then overtook Frederick City for a few days before marching to Harper's Ferry taking over the Federal arsenal. The culminating Battle of Antietam turned the area into one "vast hospital." Trains carrying medical supplies came into Monocacy Junction on a daily basis.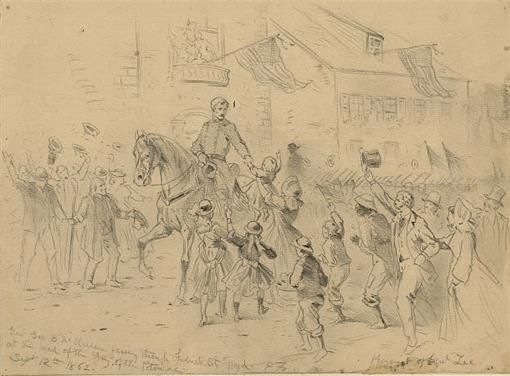 McClellan entering Frederick, Maryland in pursuit of Lee prior to Antietam. Library of Congress Prints and Photographs Division
In October, after the bloody battle of Antietam, confederate cavalry commander J.E.B. Stuart along with Bradley Johnson, directed their units "around McClellan" from Virginia to Chambersburg, Pennsylvania, and returned to Virginia through eastern Frederick County riding through Emmitsburg, Woodsboro, New Market, Hyattstown, and around Sugarloaf Mountain to the south at Barnesville. This "ride around McClellan" became a nightmare for Union Marylanders as crops, hay and horses were raided all along the route.
Essentially John Trout was encircled by war, trying to make a living. I learned that throughout these repeated encampments, firewood became scarce. Troops would then burn farmers' fencing for their camp fire needs. This certainly would have been a welcome economic benefit for the Trout fence-makers. In the northern states the cost of goods and services increased almost 80% between 1861 and 1865, so any money making opportunities would have helped the family.
It is more surprising to me that I have so far only found John Trout's enlistment from 1864, since so much activity was happening all around him prior to that time in Frederick County. It is less of a surprise though to discover that he did eventually volunteer with Cole's Cavalry. All throughout these events Cole's Cavalry was present, patrolling along the Potomac, participating in battles and skirmishes, and sending counter-raids into Virginia along the Shenandoah. Cole's Cavalry saw an average of 25 days per month in the saddle.
After Confederate cavalry commander Turner Ashby was killed in action, a new nemesis filled the void to provide Cole's Cavalry a challenge: John Singleton Mosby, the Gray Ghost. It is during this time – between 1862 and 1864 – that Cole's Cavalry really came into their own and developed a heroic reputation in Frederick County.
Information for this blog was found in an historical book Cole's Cavalry: Three Years in the Saddle written in 1895 by C. Armour Newcomer, a soldier in the unit. This book can be accessed online through the Internet Archive. The Emmitsburg Area Historical Society also has a "Cole's Cavalry Collection" if you are interested in more resources pertaining this regiment. To fill in gaps about Frederick during the war, I also referred to Paul and Rita Gordon's book Never the Like Again and Frederick in the Civil War, by John W. Schildt. Brian S. Baracz wrote an article on Bradley Johnson's war contributions called "Frederick's Confederate Son: Bradley Tyler Johnson, Brigadier General, C.S.A." in Mid-Maryland: A Crossroads of History.