The weather is getting cooler and the movies playing in theaters are getting better, which can only mean one thing: It's Oscar season! (Sorry, "Star Trek into Darkness," "Man of Steel" and "Pacific Rim" — no offense, but you were all terrible, it's true.) Just as I did last year, I'll be making my Oscar predictions every other week throughout the season — from the start of the race following screenings at influential film festivals in Telluride, Toronto and Venice, to the so-insane-their-endearing Golden Globe nominations in December, and all the way to the actual Academy Award nominations on Jan. 16. Despite my continuing annoyance with the Academy Awards and my insistence that the merits of a film shouldn't be judged by how many Oscars Harvey Weinstein campaigned for it, I enjoy watching and detailing a film's progression over the autumn months, watching it sink from being a sure-fire Best Picture nominee to sweeping the Razzie awards. It's equally exciting and maddening, and I look forward to it every year.
So, without further ado, here's my first stab at the 2013 Academy Award predictions:
PICTURE*
1. "12 Years a Slave"
2. "The Wolf of Wall Street"
3. "Gravity"
4. "American Hustle"
5. "Inside Llewyn Davis"
6. "Lee Daniels' The Butler"
7. "Rush"
8. "Captain Phillips"
9. "Saving Mr. Banks"
10. "Fruitvale Station"
alternates:
11. "August: Osage County"
12. "Blue Jasmine"
13. "Foxcatcher"
14. "The Monuments Men"
15. "Prisoners"
16. "Labor Day"
17. "Philomena"
18. "Nebraska"
19. "All is Lost"
20. "Blue is the Warmest Color"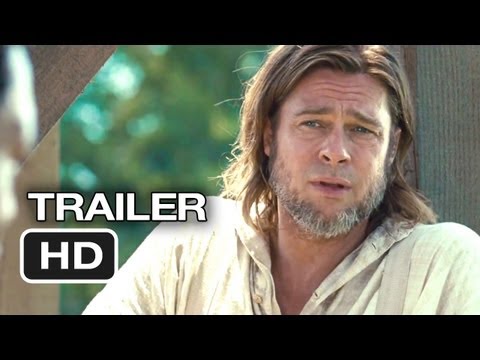 Coming out of the current flurry of film festivals, the most buzzed film with the smorgasbord of hype was "12 Years a Slave," which was met with huge acclaim and won the coveted People's Choice Award at the Toronto Film Festival (an award past Best Pictures winners like "Slumdog Millionaire," "The King's Speech" and "American Beauty" took home, too). Seriously, people went NUTS over this movie. I read approximately a billion posts about how "12 Years" was the guaranteed Best Picture winner for this year. And with all that gushing, it's impossible NOT to put the drama, about a free African-American man sold into slavery in the 1800s, at the top of my prediction list — it's also being pegged for wins in three acting categories, as well as the directing and writing fields. Folks are going crazy over this film — not Anne Heche crazy, but straight-up Courtney Love crazy. It'll be interesting to see how well it holds up throughout the awards season, though — it's set for release in October (the same month as 2012 Best Picture winner "Argo"), and while it's incredibly unlikely that it'll just completely bomb and vanish from people's minds, there's a chance that its Oscar heat will cool off in the wake of bigger-budgeted Oscar-bait movies. Which brings us to our runner-up choice for the Best Picture crown: Martin Scorsese's "Wolf of Wall Street." Though it hasn't been screened for critics yet, its gonzo trailer has gotten a lot of attention, and it's always safe to bet on a Scorsese film for an Oscar nomination (of his last five non-documentary films, four of them were Best Picture nominees).
The other films with great reviews coming out of the year's film festival: the second most-gushed-about film was "Gravity," Alfonso Cuaron's sci-fi epic that one reviewer said will do for air what "Jaws" did for water (that doesn't make any sense); the Coen Brothers' much-loved "Inside Llewyn Davis," which won a runner-up prize at the Cannes Film Festival; Ron Howard's racing drama "Rush;" surprise box office hit "Lee Daniels' The Butler," which was well received by critics and even brought a tear to Obama's eyes; Paul Greengrass' docudrama "Captain Phillips," about a boat's hijacking by Somali pirates; and Sundance's Grand Prize winner "Fruitvale Station." Of the films that have yet to be screened for critics but, like "Wolf of Wall Street," have good buzz surrounding them: ABSCAM drama "American Hustle," director David O. Russell's follow-up to his 2012 hit "Silver Linings Playbook;" and "Saving Mr. Banks," from the director of surprise Best Picture nominee "The Blind Side," about Walt Disney's attempts to adapt the film "Mary Poppins."
There's still a gaggle of other films whose fortunes may rise or fall in the coming months. Five big ones to focus on are "August: Osage County," an adaptation of the Pulitzer Prize- and Tony-winning play, which received very mixed reviews from Toronto and seems more likely to get some acting nominations; Woody Allen's summer hit "Blue Jasmine," though it will definitely make an appearance in the Best Actress race for lead Cate Blanchett; the just-released thriller "Prisoners" was a runner-up for the People's Choice Prize at Toronto, but it needs a big boost at the box office to help it get over some lukewarm critical notices; and not-yet-released "Foxcatcher" and "The Monuments Men," though both are on the list solely because of their directors' pedigree ("Foxcatcher's" Bennett Miller directed "Capote" and "Moneyball," while "Monuments" is from Oscar favorite George Clooney). Also possible, but less likely, are "Labor Day," which really split critics in Telluride and Toronto; Venice Film Festival hit and Toronto Film Fest runner-up "Philomena;" critical darling "Nebraska," from Alexander Payne, of "Sideways" and "The Descendants" fame; the nearly-dialogue-free Robert Redford survival drama "All is Lost;" and, probably the least likely to get nominated but what the heck, the critically worshipped "Blue is the Warmest Color," a three-hour French lesbian drama that won top prize (and tons of controversy) at Cannes earlier this year.
TEN MORE BEST PICTURE CANDIDATES TO KEEP AN EYE ON: "Before Midnight," "The Counselor," "Dallas Buyers Club," "Enough Said," "Frances Ha," "Her," "Mud," "Out of the Furnace," "The Secret Life of Walter Mitty," "Short Term 12," "The Spectacular Now"
 *The number of nominees for Best Picture can range from five to 10, depending on the number of votes a film receives.
ACTOR
1. Chiwetel Ejiofer, "12 Years a Slave"
2. Robert Redford, "All is Lost"
3. Tom Hanks, "Captain Phillips"
4. Leonardo DiCaprio, "The Wolf of Wall Street"
5. Matthew McConaughey, "Dallas Buyers Club"
alternates:
6. Forest Whitaker, "Lee Daniels' The Butler"
7. Bruce Dern, "Nebraska"
8. Oscar Isaac, "Inside Llewyn Davis"
9. Michael B. Jordan, "Fruitvale Station"
10. Hugh Jackman, "Prisoners"
Currently, the Best Actor race could see a smackdown between former nominees and winners (DiCaprio, Hanks, Redford, Whitaker, Dern, Jackman), up-and-coming newbies (Isaac, Jordan) and veterans hoping for their first nomination (Ejiofer, McConaughey). At the top of the heap is Ejiofer (here's a helpful link to learn how how to pronounce his name), who is benefiting from the avalanche of praise that "12 Years" is getting, and his performance is a lock for a nomination, if not a win.
The other four possible nominees aren't sitting as pretty, though. Hanks is an Oscar favorite (he's been nominated five times before and won twice), and the reviews for "Phillips" and his performance have been good, but if the film flops at the box office next month, it may be forgotten come Oscar time. Redford, meanwhile, has received his best reviews in years for his nearly dialogue-free drama "All is Lost," which just stars him as a man lost at sea. Though the film may polarize some Oscar voters, there should be enough goodwill toward the former Hollywood Golden Boy to nab him his first acting nomination since 1973's "The Sting." McConaughey became a surprise critical darling last year with his performance in "Magic Mike," and his casting in "Dallas" led to a much-publicized weight loss for his role in the true story of a man with HIV (the Oscars love dramatic physical transformation almost as much as they love actors playing real-life figures), and reviews out of Toronto have been very strong for him and co-star Jared Leto. DiCaprio, meanwhile, is the most vulnerable, simply due to the fact that no one's, you know, SEEN his film yet. He's got good buzz on their side, though — DiCaprio is working with Martin Scorsese again on "Wolf," and the director helped score Leo a nomination for 2004's "The Aviator."
On the ingenue side, "Llewyn's" Isaac and "Fruitvale's" Jordan have scored raves since their film's premieres at Cannes and Sundance, respectively, but their films might not be buzzy enough for them to trump bigger names like Hanks and Redford. The same could be said for Dern (a 1979 nominee for Supporting Actor for "Coming Home"), who won the Cannes Film Festival award for Best Actor, for the low-key "Nebraska."
Former Best Actor winner Whitaker has been praised for his work in "The Butler," but he may get dwarfed by the campaigning for his higher-profile co-star, The Mighty Oprah. And Jackman, nominated in this category earlier in the year for "Les Miserables," received strong reviews for his work in "Prisoners," though the film won't have much staying power unless it becomes a massive hit at the box office, which is unlikely. Still, don't count any of those five out.
FIVE OTHER BEST ACTOR CANDIDATES TO KEEP AN EYE ON: Christian Bale, "American Hustle;" Steve Carell, "Foxcatcher;" Benedict Cumberbatch, "The Fifth Estate;" Idris Elba, "Mandela: Long Walk to Freedom;" Michael Fassbender, "The Counselor"
ACTRESS
1. Cate Blanchett, "Blue Jasmine"
2. Sandra Bullock, "Gravity"
3. Judi Dench, "Philomena"
4. Meryl Streep, "August: Osage County"
5. Emma Thompson, "Saving Mr. Banks"
alternates:
6. Amy Adams, "American Hustle"
7. Kate Winslet, "Labor Day"
8. Julie Delpy, "Before Midnight"
9. Nicole Kidman, "Grace of Monaco"
10. Julia Roberts, "August: Osage County"
Best Actress is turning out to be the most crowded category this year, with a slew of Oscar-winning ladies fighting for attention. So far, the biggest guarantee for a nomination is Blanchett (Best Supporting Actress Oscar winner for "The Aviator"), who is a lock for her sixth nomination for "Jasmine" — the film's done very well with audiences and critics, and it's been called one of her most acclaimed performances in a career full of great performances. After Blanchett, "Gravity's" Bullock (who won in this category for "The Blind Side" two years ago) and "Philomena's" Dench (the 1998 Supporting Actress winner) have received tons of great notices on the festival circuit.
The last two slots are a bit vulnerable, though — Streep would generally be considered a lock for any and all performances, though the slightly cold reception of "August" could limit her chances of being nomin– oh, who are we kidding. She'll get nomination No. 18 (!!) for this, without a doubt. She would get nominated if she somehow decided to star in the Grumpy Cat movie (SIDE NOTE: This needs to happen.) The fifth nod, though, could go to a handful of actresses in as-yet-unreleased films: "Banks'" Thompson, "Hustle's" Adams or "Monoco," which has Kidman starring as Grace Kelly (I know). It could also be taken by "Labor Day's" Winslet (though her performance, like the film, has received wildly mixed reviews) or critical darling Delpy for the summer drama "Before Midnight." And despite "August's" tepid reception, Roberts received some strong notices from critics, though the rumor is that the film's company, The Weinstein Company, is pushing for her in the Supporting Actress race.
Right now, I'm penciling in Thompson, who stars as the stubborn author of "Mary Poppins" being persuaded by Walt Disney to turn her book into a film — the film has strong Oscar buzz (which could change once critics start checking it out in about a month), and Thompson is a much-loved former Best Actress winner. But as of now, she's by no means a sure thing.
FIVE OTHER BEST ACTRESS CANDIDATES TO KEEP AN EYE ON: Adele Exarchopoulos, "Blue is the Warmest Color;" Greta Gerwig, "Frances Ha;" Brie Larson, "Short Term 12;" Naomi Watts, "Diana," Shailene Woodley, "The Spectacular Now"
SUPPORTING ACTOR
1. Michael Fassbender, "12 Years a Slave"
2. Tom Hanks, "Saving Mr. Banks"
3. Daniel Bruhl, "Rush"
4. James Gandolfini, "Enough Said"
5. Mark Ruffalo, "Foxcatcher"
alternates:
6. Jared Leto, "Dallas Buyers Club"
7. Barkhad Abdi, "Captain Phillips"
8. Javier Bardem, "The Counselor"
9. Matthew McConaughey, "The Wolf of Wall Street"
10. John Goodman, "Inside Llewyn Davis"
The Supporting races can be the hardest to predict at first — there may be large ensemble cast with only one actor who rises to the top (like Alan Arkin did last year in "Argo), or a scene-stealer who becomes a surprise contender (just look at "Bridesmaid's" Melissa McCarthy). But there's one thing for sure in the Supporting Actor category this year: Michael Fassbender has basically got this in the bag. With all the good will that "12 Years" has been accumulating, it's a perfect time to finally reward Fassbender — he was a shocking Best Actor snub for his acclaimed performance in "Shame" two years ago, and he's been reaping critical huzzahs since his breakout role in 2008's "Hunger." Reuniting with "Hunger" and "Shame" director Steve McQueen for the third time in "12 Years" seems to have finally paid off, though, and his role as a terrifying slave owner has been widely acclaimed. I'd be shocked if he didn't make it out of the award season with at least his first nomination.
Aside from Fassbender, it's a fairly wide-open field. Though he's already essentially a lock for a Best Actor nomination, Hanks could also get recognized in Supporting Actor for his performance as Walt Disney in "Saving Mr. Banks" (he'd be the first actor to get lead and supporting nominations since Cate Blanchett in 2008). Seriously, you don't get more Oscar-y than Tom Hanks playing Walt Disney. German actor Bruhl is getting raves as an Austrian Formula One driver in Ron Howard's well-received "Rush," and his high-profile role in the controversial Julian Assange drama "The Fifth Estate" should help boost his profile. The indie comedy "Enough Said" by Nicole Holofcener has been getting great reviews, as has the late Gandolfini in his second-to-last performance. The as-yet-unscreened drama "Foxcatcher" comes from director Bennett Miller's, whose first two films, "Capote" and "Moneyball," each scored recognition for its actors, so it's only natural to anticipate nominations for its cast, which includes a nearly unrecognizable Ruffalo (Oscars love physical transformations).
Any of those four could have knocked out, though, but the five alternates: Leto got raves at the Toronto Film Festival for his performance as a transgender woman in "Dallas," and first-time actor Abdi is getting a lot of attention as a Somali Pirate in "Phillips" — if either of those films take off with Oscar voters, they could easily score nominations. Though their films haven't been screened yet, the trailers for both "Counselor" and "Wolf" show some possibly scene-stealing work from Bardem and McConaughey, respectively, while Goodman is a respected-enough actor that his acclaimed work in "Llewyn" could get noticed, too.
FIVE OTHER BEST SUPPORTING ACTOR CANDIDATES TO KEEP AN EYE ON: George Clooney, "Gravity;" Bradley Cooper, "American Hustle;" Jonah Hill, "The Wolf of Wall Street;" Matthew McConaughey, "Mud;" Jeremy Renner, "American Hustle"
SUPPORTING ACTRESS
1. Lupita Nyong'o, "12 Years a Slave"
2. Oprah Winfrey, "Lee Daniels' The Butler"
3. Octavia Spencer, "Fruitvale Station"
4. Margo Martindale, "August: Osage County"
5. Jennifer Lawrence, "American Hustle"
alternates:
6. Julia Roberts, "August: Osage County"
7. Sally Hawkins, "Blue Jasmine"
8. June Squibb, "Nebraska"
9. Sarah Paulson, "12 Years a Slave"
10. Vanessa Redgrave, "Foxcatcher"
Like the Supporting Actor race, Supporting Actress is generally a hard-to-pinpoint category and could change dramatically over the next few months. And also like the Supporting Actor category, it appears that "12 Years a Slave" has camped out its territory here, with newcomer Nyong'o an early front runner for her role as a tortured slave. She's up against some mighty competition, namely Her Royal Highness, The Mighty Oprah. The media mogul has been well-received in the sleeper hit "The Butler," and she'll most likely get a nomination nearly 30 years after her nod for 1985's "The Color Purple." Also a strong lock for recognition: 2011 Supporting Actress winner Spencer in the Sundance favorite "Fruitvale."
After that, it's all up in the air. Of the many actresses in the "Osage County" cast (which also includes former nominees Abigail Breslin and Juliette Lewis), Martindale and Roberts have the best chances at recognition: Martindale's character, Mattie Fae Aiken, was originated by actress Rondi Reed on Broadway and won her a Tony, and Martindale's performance has been warmly received by critics; Roberts has also scored good reviews, but she may get shut out due to unclear category placement (her role is more of a co-lead, though she's being campaigned in the supporting category). The good will toward "Blue Jasmine" could lead to recognition for co-star Hawkins, who deserves SOMETHING after being snubbed five years ago for "Happy-Go-Lucky." Squibb and Paulson were well-received in "Nebraska" and "12 Years," respectively, but attention could be placed more on their co-stars. And former winner and acting veteran Redgrave may get her first nomination since 1993 if her role in "Foxcatcher" is juicy enough.
But for the last slot, I'm going with 2012 Best Actress winner and fairly ubiquitous "It Girl" Jennifer Lawrence in "Hustle," which reunites her with director David O. Russell, who led to her Oscar victory earlier this year in "Silver Linings Playbook." There's no real definitive reason for placing Lawrence in the top 5, only that her role in "Hustle," based on the trailer, looks fun and delightfully trashy.
FIVE OTHER BEST SUPPORTING ACTRESS CANDIDATES TO KEEP AN EYE ON: Amy Adams, "Her;" Cameron Diaz, "The Counselor;" Melonie Diaz, "Fruitvale Station;" Naomie Harris, "Mandela: Long Walk to Freedom;" Carey Mulligan, "Inside Llewyn Davis;" Julianne Nicholson, "August: Osage County"
DIRECTOR
1. Steve McQueen, "12 Years a Slave"
2. Martin Scorsese, "The Wolf of Wall Street"
3. Alfonso Cuaron, "Gravity"
4. Ethan and Joel Coen, "Inside Llewyn Davis"
5. David O. Russell, "American Hustle"
alternates:
6. Ron Howard, "Rush"
7. Paul Greengrass, "Captain Phillips"
8. Lee Daniels, "Lee Daniels' The Butler"
9. John Wells, "August: Osage County"
10. Ryan Coogler, "Fruitvale Station"
The Best Director category generally lines up with the Best Picture race, so it can fluctuate as the buzz for a film goes up or down throughout the Oscar season. Of course, with the wave of acclaim for "12 Years" pushing aside most other candidates, British director McQueen goes to the top of the list. The momentum that Cuaron and the Coen brother (who won this award in 2008) are expected to maintain with their respective films' release should carry them to nominations, though it's possible they could drop out like Paul Thomas Anderson did last year when the heat for his divisive "The Master" cooled off.
Depending on how their unseen films turn out, previous Best Director winners Scorsese and Howard could easily make it to the list — the same applies to former nominees Russell, Greengrass and Daniels. Rounding out the top 10 candidates, Wells and Coogler face the issue of a mixed critical reception (for Wells) and being a directing ingenue (Coogler) — it might be too early to completely count them out of the race, though.
FIVE OUT BEST DIRECTOR CANDIDATES TO KEEP AN EYE ON: Woody Allen, "Blue Jasmine;" George Clooney, "The Monuments Men;" John Lee Hancock, "Saving Mr. Banks;" Bennett Miller, "Foxcatcher;" Alexander Payne, "Nebraska"