I could see on my tour with Bob Fout, that Amelung had intended on creating quite an empire – a self-sustaining community centered around the glass making industry.  Unfortunately, his efforts didn't last long.
Amelung went bankrupt for a variety of reasons.  I learned that German bankers financed part of his initial operation.  When Amelung moved to America, the prices he charged for his glass had to support a large staff, support slaves to run the Estate, and provide repayments towards his investors.  Unfortunately, he had an uphill battle against cheaper glass imports, and eventually, his expenses exceeded his sales.  He made two appeals to the Government for aid; one was granted.  One was not.
Also, Former Governor Thomas Johnson purchased property with a glass factory near Opossumtown Pike and Tuscarora Creek, Aetna Glassworks, as well as property on Bush Creek known as Johnson's Glassworks, which may have provided Amelung some competition.
Last, Amelung's first factory was destroyed by fire (a hazard in the glass making business), so he struggled financially to rebuild.  In the end, this combination of events proved too much and in a short space of time – by 1795 in fact – the New Bremen Glass Manufactory failed.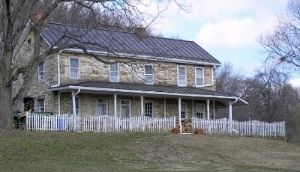 Part of Amelung's empire still remains in the form of his old tavern on Mt. Ephraim Road.  One can well imagine the respite a traveler got in this beautiful stone tavern, which is now used as a residence.
Amelung's son, John Frederick Magnus Amelung, took over the remaining glass business further down Mt. Ephraim Road where a third factory had already been built.  Eventually the Adam Kohlenberg family, also glassmakers from Germany and part of Amelung's original villagers, bought this property from Magnus.   In fact, other craftsmen brought to America by Amelung seem to have dispersed to various other glassmaking facilities after New Bremen's bankruptcy.  Unfortunately it appears by 1808 all glassworks in Frederick County ceased production except Kohlenberg Glassworks.  Justus Kohlenberg, Adam's son, continued the Kohlenberg Glassworks tradition, but he died in 1826 at the tender age of 41.
Here enters Bob Fout's personal history: the Kohlenbergs are his ancestors.  Along Mt. Ephraim Road there is now a residence atop the hill where the Kohlenberg glass factory once stood.  Across the adjacent ridge once stood the Kohlenberg house and cemetery that have since been lost to time.  However, Fout was lucky enough in the early 80s to speak to the owners of this house and root around the former foundation area of the glass factory.  He turned up shards of broken glass and "slag" – material leftover from the making of glass that binds to rock.  The melted glass that adhered to the stone makes the rocks look shiny.  Fout tenderly carted around his show and tell and pulled out these pieces as we stood on the road near the site.  These scraps are a genealogical treasure, which true history buffs would appreciate.
Fout also made sure to point out to me the intersection of Stewart's Lane and Mt. Ephraim Road.  It is an unassuming woodsy intersection directly on Bear Branch Creek, a tributary of Bennett Creek.  One can hardly imagine Bear Branch Academy sitting atop this site, but this one room school house did just that from 1839-1889 until it was moved to its current location on Flint Hill Road.  Incidentally, according to Fout, Flint Hill gets its name from the flint glass that was produced in the glass-making factories of the day.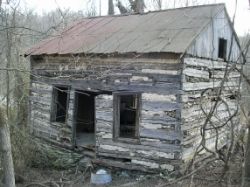 Of course as we're driving up and down Park Mills Road, I'm picturing what it was like in John Andrew Trout's day.  By the time Trout's parents, John Trout and Elizabeth Madery, married in 1839, many of the former glass making factories were still standing, but they were used as wool producing factories – a valuable commodity during the Civil War.  By that time, the glass manufacturing reputation had faded, and the area remained known only as Fleecy Dale.
There ended our tour.  I had a deeper appreciation of the import of glass factories in early Frederick County and a better understanding of the Park Mills area prior to the Trout family and the Civil War.
If you think you are related to any of the villagers in the Amelung community, you might consider giving Bob Fout a call, or visiting the Historical Society of Frederick County.