I have no Cavalry soldier ancestry so as soon as I found out John Trout belonged to a Cavalry unit many questions came to mind.  Did he have his own horse?  Did he fight on horseback?  How did troops care for horses?   Of course I've been a horse lover all my life; in fact, this sign hangs in our house: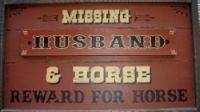 My husband knows I'm joking.  At least I think I am.
But I digress.  My point is I have spent time trying to understand cavalry regiments as it pertains to John Trout's history.
A good horse was a valuable commodity for any cavalry soldier.  Confederate cavalry had to provide their own horses, or they were forced join the infantry.  Because rebels personally owned their own horses, theirs were typically in better condition than Union ones.  As a result, whenever Union troops could capture Confederate horses they did so.   Union cavalry supplied horses to their troops, but a soldier was stuck with what he got.  Lameness, illness and fatigue affected the horses as much as the soldiers.
Here I must return to a thread in my story:  it was in the final stage of the Battle of Monocacy near the Worthington Farm that Confederate Colonel Randolph Barton lost his mount to a sniper bullet.  His orderly found Davy, the Worthington's elderly carriage horse, in their barn.  If you recall, the rest of the Worthington farm horses had been hidden in the forests of Sugar Loaf Mountain.   Davy was saddled up for service, but it was brief.  He, too, died from a sniper bullet, "never to rise again" as Glenn Worthington said.  In the end, it was perhaps fitting that Davy died serving the Confederate flag because Glenn Worthington's dad was a democrat.
In fact, the Bests, Worthingtons and Thomas all utilized slaves on their farms.  C.K.  Thomas was a democrat and known to have Confederate sympathies as well.  As an interesting anecdote, Glenn Worthington relates a story that when Union General Grant visited the Thomas farm a month after the battle and asked the young six- year- old Virginia where her father's loyalties lay, she answered, "'he is a rebel when the rebels are here, and a Yankee when the Yankees are here.'"  Fortunately, Grant laughed!
Regardless of affiliation, burying dead horses became another gruesome fact of war for both sides. In addition to human casualties, dead horses –  if not dealt with quickly enough  – would cause a far reaching stench in and around the battlefields.  Soldiers tried to avoid the duty detail responsible for burning piles of horse corpses.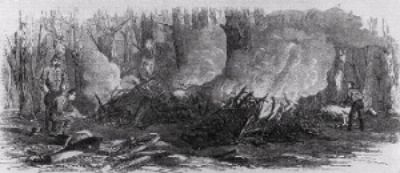 Burning dead horses after a battle, LOC Prints and Photographs Division
John Billings gives an amusing description of this duty in on pages 102-107 of Hard Tack and Coffee: The Unwritten Story of Army Life.  He mentions it caused soldiers to utter "hurrah" without the 'h.'  Ick!  Suffice it to say I won't describe it more here.
As engaging as it is to see pictures of cavalry fighting on horseback with sabers drawn, my understanding is  – during the Civil War at least – the United States cavalry did not typically fight on horseback.  Some repeating pistols and rifles were available, but they weren't widely available to soldiers.  Since ammunition was in constant short supply commanders felt that soldiers would squander it by using modern weaponry.  I know from POW records that John Trout used a single-shot Enfield rifle musket.
Usually every fourth soldier was relegated as "horse holder" during battle.   Cavalry would dismount in order to engage the enemy while some men from their unit stayed behind on horse duty.  This would have been how John Trout likely fought at Monocacy.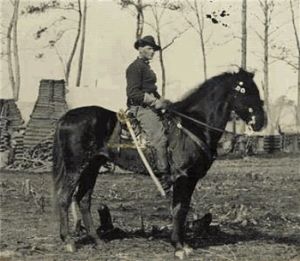 Unidentified Cavalry Soldier; LOC Prints and Photographs Division
In fact, during the Battle of Monocacy, one rebel soldier knew they were in for the fight of their lives when the order was given for all soldiers to dismount and prepare for battle at the Worthington farm.  No one was assigned to hold the horses.  He knew then that it was serious business because that command had never been given to them before.  Indeed, the last part of the battle – between 3:30-5:00 p.m.  – turned out to be the most deadly for Confederate troops.
When all was said and done after the Battle of Monocacy, Frederick County citizens had to aid not only the fallen soldiers, but also the fallen horses.  It's hard to picture the aftermath of the battle now.  But as civilians awoke on July 10 to face that aftermath, John Trout – along with 600 captured Union troops –  faced a more serious dilemma.  They marched towards imprisonment at Danville.