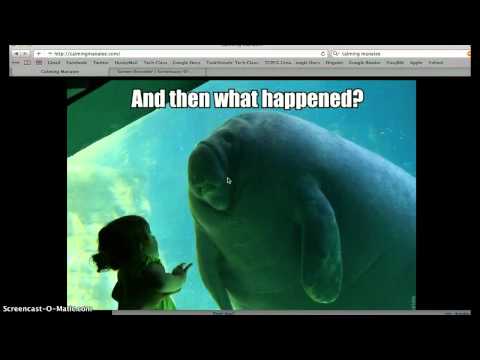 Today's meme, The Calming Manatee, isn't a new thing at all- in fact it's been around since 2012. I had forgotten all about this simple caption meme until seeing it posted on a friend's Facebook page.
It doesn't have a lot of 'practical purposes' as a response image since it isn't doesn't feature a highly charged emotional reaction.
Also the manatee itself is more of a 'neutral' animal. They aren't ferocious, hip, or even furry like cats. They are dopey, ugly-cute, and just sort of float about. So many things in this world, an on the Internet, try to be fresh, exciting and overhyped. But Calming Manatee really holds up for me.
This meme is all about chillaxing vibes and showing dumpy but cute manatees and I think that it's something special for those very reasons. So little in this wide internet is so kind and honest as these frank-faced manatees.
There is a Calming Manatee Tumblog and even a Calming Manatee site which allows you to randomly generate a new manatee to soothe you with politely uplifting words. You can then share that particular picture on Facebook or just get another Calming Manatee picture.
I was messing around on there, enjoying the comforting nature of the different photos and messages when I noticed that there were links down below the add bar. Firstly you can submit your own Calming Manatee, but secondly and more importantly there is a link to the Save The Manatee Club which was, according to its site, "established in 1981 by singer/songwriter Jimmy Buffett and Bob Graham, former U.S. Senator and Florida Governor" and promotes way to help protect real-life manatees such as signing petitions, donation rewards and promoting Manatee Sanctuaries. Way to go, Save The Manatee Club!