Canadian television is an odd topic to discuss, if only because there's not a lot to discuss. Even its Wikipedia page is like, "Meh, we generally just air a lot of American imports."
Which isn't to say it's not worthy of discussion. There's been a number of influential programs to be produced by our friends to the North, from beloved sketch shows ("SCTV" and "The Kids in the Hall") and cult hits ("Trailer Park Boys" and "Slings and Arrows") to children's shows imported to America when I was a kid (NEVA 4GET "Today's Special" and "Road to Avonlea") and whatever "The Red Green Show" is supposed to be. Plus, there's the "Degrassi" franchise, which is the single greatest teen-oriented drama committed to film. Ever. The. End.
So, the quality of Canadian television isn't necessarily lacking (four words: "Anne of Green Gables"), but it's never achieved the same level of fanatic fandom or crossover success that, say, British television has achieved. And it's why the success of the Canadian sci-fi drama "Orphan Black" has taken me by surprise. The series, which recently started airing its second season on BBC America in the States, follows a young grifter discovering she's one of a large number of identical clones, all part of a secretive scientific experiment. Since its premiere last March, "Orphan" has developed a huge cult following (there's even an unofficial fan group called "The Clone Club") and much critical acclaim and accolades. The majority of the show's kudos has been directed toward the primary reason to discover this underground hit: lead actress Tatiana Maslany.
Not since Hayley Mills discovered her long-lost twin at summer camp has a performer so effortlessly captured playing multiple roles in the same scene. But forget Mills playing two twins — Maslany is portraying seven different clones. AND she's appeared as three different characters interacting with one another IN THE EXACT SAME SCENE. "Nutty Professor 2: The Klumps" ain't got NOTHIN' on Tatiana!
So, who are these clones I speak of? Well …
There's Sarah, the focal point of the series (if this was a boy band, she'd be the tough but sensitive one):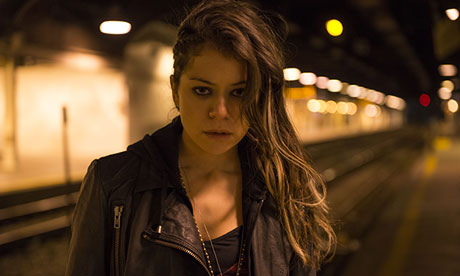 There's also Cosima, the hippie micobiology student:
And Alison, the suburban wife and mother:
And don't forget my favorite — Helena, the wackadoo Ukraine assassin:
What's most remarkable about the performance(s) is Tatiana's dramatic range, which is put on display in every single episode. Most actors have to rack up an entire decade of film work to achieve this amount of diverse acting roles. Each clone presents a new opportunity for Tatiana, a new chance to show off the depths of her acting skills — from the disturbed, completely unhinged intensity she reserves for Helena to the uptight, soccer-mom-on-the-verge-of-a-nervous-breakdown humor of Alison. It's a dazzling tight-rope act, and she pulls it off beautifully.
As for the scenes where she plays three characters simultaneously, I've never completely warmed up to the special-effects technique of having the same actor appear as multiple characters in one shot — no matter how seamlessly it's done, I never think, "Wow, there's TWO of her." No, no. I generally think, "Boy, I bet it took a long time to do that three times."
But what Tatiana's done is create seven fully developed characters, so that when she stars in a scene with three of her clones, I'm not seeing the special effects of her acting alongside herself — I'm watching three completely distinct characters interact, each different and unique. It recalls a similar technique Jeremy Irons brilliantly used in David Cronenberg's "Dead Ringers," where he brought a particular energy and vulnerability to each of the two evil gynecologist twins he played (don't ask).
Tatiana also receives wonderful support from her hilarious co-star Jordan Gavaris as Sarah's hustler foster brother, who has palpable on-screen chemistry with all the many variations of Tatiana, providing much of the show's comic relief.
If it wasn't for Tatiana, though, "Orphan Black" would most certainly suffer as a result — she helps ground the material, which can sometimes get too sci-fi-y geeky for its own good (a minor character in season one has a tail, which … OK) and features a roster of, excluding Gavaris, some of Canada's worst character actors (Dylan Bruce, who plays Paul, the hunky boyfriend of one of the clones, is a tall drink of bland).
With no sophomore slump evident so far this season, "Orphan Black" has become one of the best on TV right now — it's smart, fun and addictive. And with Tatiana taking on yet another clone later in the season, it's out to prove she is, without a doubt, the MVP of the TV world right now.
And I hope — oh, how I hope — that they figure out a way for all the clones to get together and perform this beautiful ditty: