(P.S. Yes. The Emmys will be discussed next week.)
July, July. Fireworks. Hot dogs. Patriotism. Sunshine. Sunburn. Hamburgers. The beach. Friends. Family. Water. Heat. More heat. And yes. Even more heat.
This month's set of Netflix Pix is one of the strongest we've had in a while. And by "strongest," I mean, "At least I didn't have to spend three hours culling the instant stream library this time to find five things we haven't already listed." Naturally.
So, yes. This is my happy face.
From a sad, sad story that is guaranteed (guaranteed!) to make you cry as the credits role, to a documentary on one of the most fascinating figures ever attached to the Beatles, to an understated mumblecore film based almost entirely around drinking beer, all the way to Joseph Gordon-Levitt's slightly uneven debut as a director, there's a lot here to consider whenever you sit down with Big Red's best instant offerings this month.
So, before that sun-block stops working and you get weird white streaks across your chest (not like that has happened to me this summer or anything), take some time to think about the following five picks as the air-conditioned rooms prove to be the only places in which any of us want to sit.
Onward and upward …
1. "Good Ol' Freda" — Have you ever wondered what it might be like working for the biggest pop band in the history of the universe at the height of their popularity? Well, even if you haven't, Freda Kelly's story is one that deserves your attention. The secretary for Brian Epstein (and the head of the band's fan club), she was at the forefront of it all — the women, the partying, the chaos, the drugs, the music, the plane rides, the limo rides, and, of course, the many, many perks of being associated with the most important rock group music will ever see. Until the release of this documentary, she never had much interest in making her story public or dishing any dirt on the Fab Four, and God bless her for that. It's not that she completely dives in here — most Beatle die-hards will contend that not much new is learned within these 86 minutes, and despite her closeness to the group, neither Paul nor Ringo actually sit for an interview — but to hear a first-hand account of all the madness that surrounded Beatlemania 50 years after the fact is a luxury not often bestowed upon the movie-going public. There are some sweet tales. There are some sad tales. There are some funny tales. And there are some fascinating tales. If you've ever spun a Beatles record in your life, or if you've ever hummed any of their timeless choruses in your head, and you happen to have even the slightest interest in precisely how gigantic their profile once was, this short doc is most certainly worth your time. Turn on the AC, grab a lemonade and sit back to relive one of the most wild rides popular culture will ever see, seen through the eyes of someone who had more access than most anyone else in the world.
2. "Inside Chipotle" — Boy, I love these "Inside" profiles from Bloomberg. Never longer than a half-hour. Quick and to the point. Informative yet entertaining. Those guys even made Chipotle, a restaurant I have been known to despise, interesting. Because you've always wondered how you fell asleep one night and woke up the next to find that a $12 fast-food burrito is not only fashionable, but in higher demand than a Big Mac, this thing is a must-see, especially if you like food. And who doesn't like food? Duh.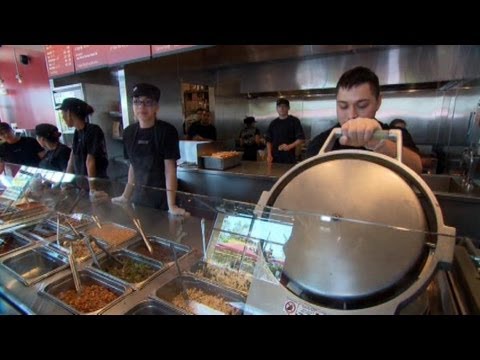 3. "Don Jon" — Why put this here? Well, isn't that a good question. I mean, it's not the best thing you could choose out of these five picks. It's a little too heavy-handed when it comes to stereotypes. The plot is just a tad outrageous, once you see how the whole thing turns out. And, maybe most annoying of all, Scarlett Johansson's character is so irredeemable that you almost begin to give up on her as Scarlett Johansson, The Person. But, this is Joseph Gordon-Levitt's directing debut, remember, and the critics, for whatever they're worth, seem to think it isn't terrible. Someone noted that it's a "more fun" version of the great Steve McQueen film "Shame," and that's a bit of a stretch. Me? I'd go with, "'Jersey Shore' re-imagined as the XXX version of '500 Days of Summer.'" You say potato. I say tomato. Or something like that. Anyway, there are some high spots: Tony Danza's foul-mouthed father steals each scene he's offered, and the movie spoofs with Anne Hathaway, Channing Tatum, Meagan Good and Cuba Gooding, Jr. are nice, smart shots at mainstream Hollywood (even though they come from a guy who is very much embraced by mainstream Hollywood, himself). At best, it's an uneven play on the romantic comedy formula that has more-than-occasional bits of actual pornography spliced in between the somewhat watered-down plot we are asked to buy into. At worst … well, it's just a C-grade pet-project debut from an actor who is adored by a whole ton of people. It might sound like I dislike Gordon-Levitt, but I don't. Rather, I was just hoping for more from "Don Jon." Come for the nudity. Stay for the Danza.
4. "Drinking Buddies" — So, who wants to watch Olivia Wilde and Jake Johnson drink craft beer and flirt for an hour-and-a-half?! OK, OK. I'm just being cynical. Ironically enough, I covered both film festivals this movie debuted at (2013's SXSW and Maryland Film Festivals, neither for this paper), and I had to wait until it hit Netflix's instant streaming catalogue to find time for it. Also ironic: I was never a fan of Wilde, Johnson or even Ron Livingston before watching this movie, but for whatever reason, this thing made me gain a little bit of love for each of the three. Now to the spot where irony creeps in: While I've adored Anna Kendrick's work for almost the duration of her career (I even went all in on "Pitch Perfect!"), she comes away from this movie as the one with the most bruises to my perception of her (as though that really even matters to anyone). Something about her performance seemed a little too detached, which is odd, considering how the whole thing was improvised and they actually drank real beer throughout the filming process. Or, so says The Internet, at least. Anyway, this thing is worth your time, especially if you enjoy the off-the-cuff feel that it so clearly embodies from minute one. Wilde has never been more likeable and you'll swear you've partied with Johnson at least two or three times back in your college days. If nothing else, this section of Maryland sure does like its homemade breweries, and you won't find a more real account of what it's like to work in and around one as the plot for a romantic comedy develops. Grab a Flying Dog and settle in.
5. "Now Is Good" — And for my final trick, I'm going to part company with the critics again. My favorite pick for July, this thing will have you in tears by the time the screen goes black. Led by a pixie-cut Dakota Fanning, it's the tale of a dying teenager who has a list of things to do before she dies, and through it all, she somehow (surprise!) finds love. Sounds cliche, right? Right. But the performances come up big, despite the British press dismissing the thing all around. Fanning is somewhere between good and great while her separated parents, played by Paddy Considine and Olivia Williams, provide top shelf background material for the chaos surrounding the always-depressing story of a teenager's death. You might be able to see everything that comes around the corner miles before you actually make it there, but no matter. If you're looking for sad and you're looking for tiny, "Now Is Good" might just approach great.